In one of Allen Ginsberg's early photographs, on view now as part of the retrospective "Beat Memories: The Photographs of Allen Ginsberg" at the Grey Art Gallery at New York University, the poet focuses his lens on a homeless man sitting on the edge of Tompkins Square Park. The man's face is bloated and scarred and his belongings are piled in a shopping cart. Narrow lunch counters and hulking sedans along Avenue A date the photo to the 1950s. Four decades later, Ginsberg composed a short prose poem along its lower margin:
The first shopping cart street prophet I'd directly noticed, fall leaves scattered on Tompkins Park sidewalk, Avenue A & St. Mark's Place, over 40 years ago, Leshko's Restaurant was cheap and popular as at present on the corner a block south, I had my snapshots developed at a drug store near Park Center eatery across the street on S.W. corner, & was living with W.S. Burroughs a few blocks away 206 East 7th Street—working as copyboy on now defunct New York World-Telegram, my apartment rent $29.00 a month, three small rooms, October 1953.
It does not come as a surprise that the best thing about the poet's photos are their captions. This one is quaint, but there's also a kind of apocalyptic nostalgia in between the clauses, the sense that a far more famous Ginsberg, who was not in the best of health when he wrote those words, was grasping at a life he couldn't prolong and a city that barely resembled the one of his youth. He still demonstrates a preciousness reserved for the young and ambitious ("shopping cart street prophet"), but mostly there's a feeling of loss: no more cheap apartments, no more New York World Telegram and, as if he knows it would happen eventually, no more Leshko's (closed for good in 2003) and no more Burroughs (died of a heart attack in 1997, a few months after Ginsberg died of complications from liver cancer). Beneath the surface of his urban Romanticism—in both the words and the picture—is the hopelessness that pervades his New York poems from around the time he shot the photograph, like "My Alba" (1953):
Five years unhappy labor

22 to 27 working

Not a dime in the bank

To show for it anyway

Dawn breaks it's only the sun

The East smokes O my  
   bedroom

I am damned to hell what

Alarmclock is ringing …
There are some 110 black-and-white photographs in "Beat Memories," which has traveled to New York from the National Gallery of Art in Washington, D.C., as well as a fairly substantial collection of letters, notes, poems and manuscripts. As a photographer, Ginsberg was no Robert Frank, though he was highly influenced by Frank's candid and imperfect style (Frank also appears in some of the works here). But as a historical documentation of a group of people who came of age in New York, it's essential. Ginsberg and his peers hardly need an argument made for their importance, but this exhibition does manage the feat of making the poet and his friends come across as human, not just figures that loom large over several generations of American writing.
The earliest works here date back to the early '50s. Ginsberg was young but coming off of several traumas. In 1949, he was living with a small-time crook, the incredibly named Little Jack Melody, a friend of Herbert Huncke, Ginsberg's roommate at the time. His home became the center of a burglary ring, and he was eventually arrested in a stolen car while trying to transport his notebooks and papers out of the apartment (he didn't want them confiscated in case the cops got wise to Melody). This landed him in the Columbia Psychiatric Institute, where he met the writer Carl Solomon, to whom he'd dedicate his most famous work, "Howl," a few years later. Solomon appears fresh-faced in one photograph, wearing a dress shirt and tie, argyle socks and no pants. Ginsberg was hardly a stranger to the mental health industry. His mother, Naomi, the central figure of his other important work, "Kaddish," was in and out of institutions during his childhood. After his father, Louis, divorced her, Ginsberg was forced to sign the papers approving Naomi's lobotomy at the Pilgrim State Hospital in New York.
Still, in his reminiscences of Solomon, Ginsberg seems to be having the time of his life, despite present circumstances. In the hospital, where Ginsberg spent six months and had weekends off, Solomon introduced him to Artaud and Genet. Ginsberg composed many short poems during this period, not all of which dealt with imprisonment—"Sometime Jailhouse Blues" is pretty on the nose—though they do display a self-conscious wariness that he'd continue to explore in his writing for decades ("I attempted to concentrate / the total sun's rays in/each poem as through a glass,/but such magnification/did not set the page afire," he writes, coming off both cheerful and disappointed, in "Epigram on a Painting of Golgotha.")
Solomon wasn't too crazy about being lumped in with the best minds of Ginsberg's generation, suffering "migraines of China under junk-withdrawal in Newark's bleak furnished room," and so forth, as evidenced by letters included in the exhibition. He wrote to a mutual friend in 1962 about Ginsberg's dedication, saying "I am sorry you have read Howl. I am sorry it was published and I don't feel I am friends with Allen either." As definitive as that sounds, the two were still corresponding into the '60s. A letter Ginsberg wrote to him in 1967 about visiting Ezra Pound in Venice is included in a glass case, the words accounting for the most powerful image in the whole show: "Gave him Beatles records for his 82 birthday, he said he felt his Canto were a mess."
It's not exactly fair to judge Ginsberg the photographer against Ginsberg the poet. He was, at best, an amateur camera buff. Many of the earlier photos are shot on a $13 Kodak purchased secondhand on the Bowery in 1953. About two decades are missing here because Ginsberg gave up the hobby, only to become interested in cataloguing his legacy in the '80s. (He'd been writing poetry, on the other hand, more or less continuously since age 15.) He was a meticulous archivist—of his work, his life and especially his friends. Burroughs is the most enduring subject in the photographs. There he is, with his "sad lover's eyes," posing in the shadows with a first-edition copy of Junkie. And it's refreshing to have a record of Jack Kerouac goofing off and appearing to have actual fun before booze took up all of his time. On one of his many portraits of Kerouac, Ginsberg's caption reads, "We used to wander dock sides under Manhattan's bridges & thru truck parking lots along East River singing rawboned blues, Leadbelly's 'Black Girl' or Eli Eli, chanting 'Annabelle Lee' & shouting Hart Crane's 'O Harp Altar of the fury fused.'" They sound like pretentious jerks.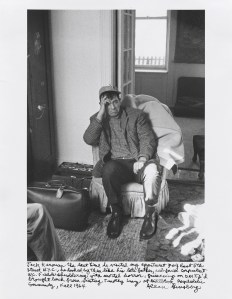 There is one image here that measures up to Ginsberg's writing. It's a fairly famous photograph of Kerouac a few moments after ingesting the hallucinogen dimethyltryptamine. He's bulky, bulging out over the edge of his chair, wearing a sport coat and a child-like cap that doesn't fit over his head, and frowning as if he has just watched his own ill-attended funeral, a real American kind of grimace. He looks old, even though the pictures of him all young and strapping are from fewer than 10 years earlier. Ginsberg writes, "The last time he visited my apartment 704 East 5th Street N.Y.C., he looked by then like his late father, red-faced corpulent W.C. Fields shuddering with mortal horror." The exhibition prepares you for such a seemingly rapid descent in the form of a foreshadowing letter Kerouac wrote to the poet Gregory Corso in October, 1958:
My mother and I are leaving NY soon and moving back to Florida where it's cheaper to live and also where I can write more and fool around less with a thousand repetitious parties and appearances in NY City which is too close for comfort to this my desk. When I wanta get laid I'll go to Havana by god.
(In a cruder bit of prescience, this letter is juxtaposed with publicity materials for Kerouac from around the same time, which state, "Word has just been received from the author's agent that purchase of On the Road by the movies may be finalized next week. Details to come." It's impossible to say how Kerouac would feel about the current movie version of On the Road starring Kristen Stewart and two cherubic British guys, but the DMT grimace seems about right.)
Ginsberg was skilled at candid shots that narrate a fall. A picture from 1985 of Harry Smith, the great ethnomusicologist who compiled The Anthology of American Folk Music, falling asleep on top of a plate of Chinese takeout comes pretty close to the power of a withering Jack Kerouac. Smith, suffering from a knee fracture, was homeless at the time, heavily bearded, and looking so near death that you can almost smell the corpse-scent emanating from the emulsion (he hung on for another five years before succumbing to a bleeding ulcer in the Chelsea Hotel).
Perhaps Ginsberg was skilled at capturing decline because, like Kerouac, he lived fast and was doomed to inevitable burnout. As his fame grew and his health worsened, the quality and frequency of the poems dropped. His verse in his later years could be so utterly inane that the phrases take on the feeling of punch lines, as with a poem like "CIA Dope Calypso": "Mesopotamia was doing just fine/Till the Ottomon Empire blew up on a mine/They had apple orchards in Eden and Ur/Till the Snake advised George Bush 'This land is yours.'" He was already considered among the greatest poets of the second half of the 20th century by the time he wrote that, his celebrity intact. A late self-portrait from this era is jarring and oddly seductive—he's hunched and naked, not quite smiling as he rests his arm on the paunch that his torso has become. Looking at it evokes a feeling similar to the one you get when you read a poem Ginsberg wrote when he was zonked out on benzedrine—a kind of can't-bring-yourself-to-look-away attraction.
Naturally, the photographs from this time, displayed near Ginsberg's decaying self-portrait, include a photograph of Madonna sitting on Warren Beatty's lap at Francesco Clemente's New Year's Eve party and Lou Reed doing his best impression of Samuel Beckett's contemplative scowl while sitting beneath a poster of the author. Ginsberg also revisits Tompkins Square in the '90s in a photograph of Bob Dylan, who looks not unlike a "shopping cart prophet" himself, wearing a bulky white shirt underneath an ill-fitting black coat tied into a knot at his waist, with intermittent patches of scraggly hair half-covering his jaw. "Ten minutes later," Ginsberg writes, "we were chased out onto Avenue A by homeless men sleeping in the bandshell who threw bottles at us mistakenly thinking we were taking their pictures."
Once again, the caption says far more than the photograph. As a poet, Ginsberg was fearless, even as the quality of the work declined (for an example of both, read "Sphincter," which is about exactly what the title suggests). That Ginsberg would have turned around in his retreat and snapped some action shots of homeless men throwing bottles at Bob Dylan. That Ginsberg could distill four decades of friendships and a lifetime's worth of chaos and pain into a few lines:
Who is this Slave Master
   makes

Me answer letters in his
   name

Write poetry year after
   year, keep up

Appearances

This egotist whose file
   cabinets

Leave no room for more

Pictures of Me?
mmiller@observer.com