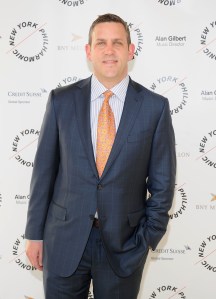 "We're pedaling as fast as we can," the New York Philharmonic's still-newish executive director Matthew VanBesien told the Transom with a laugh, when asked how things had been going since he took over from Zarin Mehta last summer. "There's a lot to do."
It was a brutally cold January morning, and Mr. VanBesien and his orchestra colleagues—including radio host, board member and donor Alec Baldwin—were on hand for the Philharmonic's announcement of its 2013-14 season at WQXR's Jerome L. Greene Performance Space. His cycling metaphor might well have been replaced with the luge—or even the Nordic combined.
Perusing a list of planned soloists that included five violinists, three cellists and classical comedy sketch duo Igudesman & Joo, we formulated a complaint, or, rather, an observation. The viola, that oft-neglected and ridiculed member of the string family, had been left off entirely.
Mr. VanBesien laughed and gave a shout-out to the Philharmonic's viola section and its principal, Cynthia Phelps. Then he pedaled right away.
As the space filled up, Mr. Baldwin shuffled through some papers. Meanwhile, across the room, the Transom spotted Charles Hamlen, the vice president for artists and programs at the Orchestra of St. Luke's.
Asked about cellist Alisa Weilerstein's scheduled Nov. 1, 2012, appearance with the OSL, which was canceled in the wake of Superstorm Sandy, Mr. Hamlen, former chairman of IMG Artists, explained that it had been rescheduled with cellist Steven Isserlis for June 1. He went on to note of Ms. Weilerstein, "I knew her parents before they knew each other."
The Philharmonic's chairman, Gary Parr—a deputy chairman at financial advisory and asset management firm Lazard Frères—then kicked the event off with a nod to one group that was conspicuously absent: the orchestra's musicians.
"They are the New York Philharmonic, and they are so extraordinary, so exceptional," he gushed. "They are, of course, at Avery Fisher Hall at this moment, rehearsing. As they should be."
"We have some moments where we're just going to have fun this year," Mr. VanBesien promised. "And I think that's a really good and healthy thing."
This season will be music director Alan Gilbert's fifth with the orchestra. Messrs. Gilbert and VanBesien were joined by artistic administrator Ed Yim, and there was quite a lot of talk of collaboration.
"Part of what the three of us do is keep a very open radar to what's going on around us and what people whom we respect are interested in, and kind of take those ideas and try to work with them and make them a part of who we are," Mr. Yim offered.
Highlights of the season will include artist-in-residence Yefim Bronfman's performance of the complete cycle of Beethoven's piano concertos. Mr. Bronfman wasn't there; he was off in Dallas, likely in warmer weather, preparing to play Mozart's Piano Concerto No. 24 with the Dallas Symphony Orchestra as part of its Mozart Festival.
Also on tap, and perhaps the biggest news garnered from venturing out in the cold, is the New York Philharmonic's Inaugural Biennial—which will run from May 29 through June 7, 2014. Mr. Hamlen told the Transom that OSL is one of the Philharmonic's partners for the biennial, which, he said, they're "very excited about."