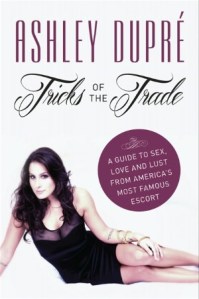 The New York Post and corporate book publishing sibling HarperCollins have teamed up for a foray into the brave new world of e-publishing. Tricks of the Trade, by Eliot Spitzer scandal veteran Ashley Dupré, goes on sale today. The Post's press release describes Ms. Dupré as "America's most famous former escort," which, while a dubious distinction, we suppose isn't inaccurate.
The book, collected from Ms. Dupré's "Ask Ashley" columns in the newspaper, gives advice on romance–from lust to healthy relationships.
"Never shy, Dupré offers her sexpert opinion on everything from threesomes to rubber fetishes to rekindling an old romance," the press release explains. Rekindling an old romance?! Do tell. What other expert advice can we hope for? "She gives plenty of hands-on sex tips, always stresses the importance of open communications, and charms readers with her winning advice."
We barely even know where to begin. But if there is any qualified sexpert dispensing wisdom on fetishes and communication, well, why not get it from Mr. Spitzer's former high-priced call girl?
This title represents the Post's effort to enter the digital book market.
"Tricks of the Trade is a unique and fun book—the perfect way for the Post to enter the market," said Jesse Angelo, publisher of The New York Post. "We expect it will be the first of many Post e-books to come in partnership with HarperCollins." Mr. Angelo, of course, comes to the Post from another News Corp. digital initiative—the recently shuttered Daily. Hopefully for all involved, this one has a happier ending.
The e-book is available today on through all online retailers in all forms of e-readers and tablets for the low price of $5.99.The publication of the book is timed for Valentine's Day. Get it for that special gal pal!