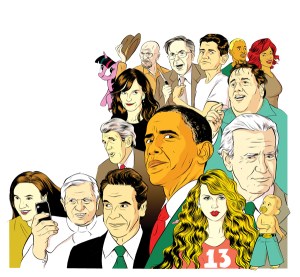 Prophecy, dear reader, is not an exact science—unless, of course, you're Nate Silver. And you're not in fact Nate Silver, are you?
(Called it.)
Instead, it is a mystical art, a terrible burden, a mysterious gift that tends to skip a generation, dooms those who possess it to a lifetime of harrowing visions, and makes it really easy to inadvertently reveal Walking Dead spoilers to everyone on your Twitter feed.
In days of yore, soothsayers employed a number of dubious means to foretell the future, from "scrying," or gazing into a crystal ball, to "hieromancy," the casting of entrails, and "uromancy," the study of urine. (You will eat asparagus …)
As for our own methodology, let's just say it's a bit more ad hoc. The Observer staff—aided by a few ringers—simply squinted real hard and observed. Occasionally, when the hoped-for revelations failed to materialize, we knocked back a few Jäger bombs and tried again. Eventually, it all became clear.
Herewith, then, a glimpse of the future. Don't say we didn't warn you.
• John Kerry resigns as secretary of state to play himself on a six-episode arc of Parks and Recreation.
• Having lost all users to Google Maps, Apple's Maps shows every street leading directly to a liquor store and then into a nearby ravine.
• Lena Dunham receives a $7.4 million advance for a funny observational memoir about getting paid $3.7 million for her first one.
• Breaking Bad ends on a tragically ironic note when it's discovered that Walter White's cancer treatment would have been completely covered under Obamacare.
• Ellis Island is converted into an NYU dining hall.
• Rupert Murdoch discovers that his Twitter feed is public.
• Preet Bharara indicts his mother for insider trading, swears he saw her kissing Santa Claus.
• Wayne LaPierre accidentally falls on a knife. With his dying breath, he calls for a nationwide ban on cutlery.
• After 12 years at Phillips de Pury, Simon de Pury begins a lucrative new career as ringmaster with Cirque du Soleil.
• The wrath of Buzz Bissinger is finally harnessed to power a small town in Idaho. Amazon builds its newest server farm in an adjacent cornfield.
• Judd Apatow becomes a tad more confident about speaking at length about his movies, as well as the world of comedy in general.
• Jerry Saltz helps Roberta Smith paint the den. She playfully dabs the tip of his nose with a Martha Stewart/Glidden Plum Wine. They totally make out.
• After Red Bull signs on to sponsor the next fiscal cliff, Paul Ryan wows a global TV audience by plunging into the abyss wearing a sporty red and blue singlet.
• A bunch of financiers who haven't used public transportation in decades set fund-raising records on behalf of former MTA boss Joe Lhota.
• James Franco earns a doctorate in neurosurgery and begins to randomly operate on hot passersby.
• Mayor Bloomberg signs an emergency order limiting frozen yogurt toppings. Preet Bharara opens an investigation into Howard Wolfson's timely sale of Reese's Pieces stock.
• In a last-ditch effort to improve his visibility, Thomas Pynchon joins The X Factor as head judge.
• Tim Cook leaves Apple and moves to an ashram, only to find all anyone wants to hear about is what Steve was really like.
 • Chris Brown hogs the remote on a Sunday night, causing Rihanna to finally dump his sorry ass for good.
• The hacker group Anonymous attacks exercise app FitBit; everyone in Union Square unwittingly gains five pounds.
• A filthy Mitt Romney, wearing nothing but bunting from a June 2012 campaign stop, is spotted sleeping on the hood of the president's limo.
• The last guy on Wall Street to feel slightly guilty about ordering $8,000 champagne officially gets over it.
• Guy Fieri opens Tipps, the world's first highlights-themed bistro.
• Groundr, a new social media app for gay baseball players, is released in beta. Half the AL East seems sluggish the next day.
• Preet Bharara indicts Jay-Z for fraud after more than 60 percent of the singer's 99 problems turn out to be more like minor annoyances.
• In the Mad Men season premiere, set in 1986, an aging Don Draper grimly stares at a mango wine cooler and realizes he no longer has the words.
• Instagram's terms of service are amended to include the disclaimer, "Use of the Mayfair filter proves you are a douche."
• After Americans gleefully embrace several new apocalypse hoaxes, health officials begin to wonder if perhaps the entire country might just be a bit depressed.
• To prove that his big short against Herbalife was nothing personal, Bill Ackman polishes off four medium dulce de leche-flavored Healthy Meal nutritional shakes in one sitting.
• Peter Jackson signs on to direct the new Star Wars movie, casts Andy Serkis as Harrison Ford's neck wattle.
• All the babies conceived to dubstep music in 2012 are born, and they're a little too into their binkies.
• On re-examination, the God Particle is found to be a dust bunny caught in the lint trap of the Large Hadron Collider.
• Q4, 2013: Kevin Ryan insists Gilt Groupe's IPO is right on schedule for 2032.
• Jessica Chastain's star continues to rise, thanks to an insatiable public demand for movies about sad, pale moms.
• The one lasting legacy of the 2012 Romney campaign: Mitt and Meat Loaf stay in touch, hang out a lot.
• Lena Dunham's left breast is nominated for a Golden Globe, narrowly losing to Michael Fassbender's penis.
• 2013 is dubbed The Year of the Gay Jewish Statistician.
• After Alana "Honey Boo Boo" Thompson begins penning a column on XOJane, Michael Stipe invites her to duet on "Georgia on My Mind" at the Super Bowl halftime show.
• Randall's Island sinks into the East River, due not to rising sea levels but a bumper crop of Richard Serra sculptures at Frieze New York.
• A shake-up occurs at The New York Times when Nicholas Kristof is reassigned to write weekly web recaps of The Middle.
• Gov. Chris Christie angers his fellow Republicans by responding to a President Obama coughing fit with, "Ya okay over there, big guy?"
• Just as you feared: Instagram makes millions off your sepia-toned photo of a dog crossing his paws.
• BuzzFeed's "13 Objects That Look Like Coco's Butt" nabs a Pulitzer.
• The NYPD's controversial "stop and frisk" program is modified to a more agreeable "stop and frisk and give a free 45-minute hot stone massage."
• Reddit Magazine launches to a glowing write-up from David Carr.
• Lena Dunham's right breast starts a Twitter account, and it's full of racial slurs.
• An embittered Barnes & Noble officially changes its slogan to "Spare Us Your Pity."
• A new bespoke cocktail lounge begins serving a shaving of Black Jack chewing gum in an otherwise empty martini glass.
• When Apple's iPad Mini Mini flops in the marketplace, the company rebounds with the blockbuster iPad Mini Maxi.
• Katy Perry attempts to drown John Mayer in a bathtub full of cupcake frosting.
• God is welcomed back into the classroom, and it's a lot like Rodney Dangerfield in Back to School.
• A man douses himself in Mountain Dew and attempts to self-immolate in protest of the soda ban.
• The sequel to This Is 40, titled This Is 41, opens to middling reviews.
• Rush Limbaugh lashes out at sunrises, baby smiles and hot cocoa on cold winter days.
• Unemployment drops when millions of working YouTube house cats are included in the jobs numbers.
 • Sunday Styles takes note of that whole yoga thing.
• Jalopnik posts a sex tape that appears to show Google's self-driving car giving a lube job to Herbie the Love Bug.
• Chevy Chase, still a major-league asshole.
• Newly unearthed Mayan calendar predicts the outcome of Homeland, incorrectly.
• Justin Bieber is spotted in a corner booth at the American Girl Place cafe with Josefina.
• Poor Mark Sanchez wanders the streets of New York, a handsome, young multimillionaire who could pretty much retire tomorrow.
• "Fiscal Cliffing" enters the lexicon of sexual slang; you think you know what it means, but it's actually not that.
• Quentin Tarantino makes a darkly violent revenge fantasy film about 9/11 survivors killing al-Qaeda operatives. Viewers are outraged by the plot, but won over by the elaborate musical numbers.
• The doodlebugs take over. (Sadly, you won't know what this means until it happens.)
• Lehrer rehabilitation, stage 1; Spitzer rehabilitation, stage 3.
• Mayor Bloomberg replaces all movie theater seats with Bowflex Tread Climbers.
• Lena Dunham's left breast pens a lengthy essay in The Atlantic about the state of womankind. Katie Roiphe delivers a scathing rebuttal in Slate.
• The emergence of the Bronies as a credible third party stalls after Politico uncovers internal emails indicating that friendship is not, in fact, magic.
• Tim Geithner leaves his post at Treasury to become the latest bailout veteran to ink a book deal ragging on his performance during the financial crisis.
• Blacks and Jews finally gain admittance to Middle Earth.
• The Guggenheim announces the addition of three new whorls to its iconic Frank Lloyd Wright-designed flagship.
• Maureen Dowd officially unveils pop culture references from 1993 with her column headline: "Whoomp! (There Bobby Jindal Is)."
• The artisanal trend begins to wane as Brooklynites conclude, "Making shit isn't cool. You know what's cool? Buying shit that Chinese people made."
• Soho is evacuated after a faulty valve at the Hollister store releases a plume of fragrance into the surrounding streets.
• David Karp leaves Tumblr to become Japan's most popular menswear model.
• Comedians with less than 100,000 followers leave Twitter to launch their own platform, Bitter.
• Taylor Swift remains coy about the real-life subject of her new single, "You Are a Fucking Dirtbag and I Hate You, Warren Beatty."
• No one ever mentions the Mayans ever again.
• Tina Brown helms the reboot of Cat Fancy with controversial "Garfield at 50" cover.
• Lindsay Lohan and Nic Cage start dating, move to Vermont, open up a little coffee shop and never bother acting again.
• The first papal selfie fail.
• Huffington Post just says "fuck it," redirects to BuzzFeed.
• Marty Markowitz eats a cheesecake.
• Jeff Koons, Takashi Murakami and Damien Hirst begin making art as a single Tokyo-based corporate entity called Takhirko.
• Mitt Romney is found wandering around a construction site in La Jolla, screaming, "But he says you didn't build that!"
• Clint Eastwood's chair is acquired by the Smithsonian, where it teams up with Archie Bunker's chair to give Dick Van Dyke's ottoman a beat-down with Ben Franklin's walking stick.
• Governor Andrew Cuomo is injured after Sandra Lee's pyrotechnic Fourth of July tablescape goes horribly awry.
• 3D-printed sexts!
• Lindsay Lohan runs herself over with a car, successfully sues herself, fails to pay herself awarded damages.
• Vice President Biden convinces Boehner, Reid, Pelosi and McConnell to resolve the next fiscal crisis over a friendly game of beer pong.
• A Times Square Elmo finally has the decency to do something about the oyster sauce on his fur.
• Gary Shteyngart publishes a lavish monograph of his blurbs. Joyce Carol Oates pronounces it "unputdownable."
• Dennis Crowley ditches Foursquare to become the world's first self-quantified ski instructor.
• Staten Island becomes the new Queens. Queens becomes the new Brooklyn. Brooklyn is the new Manhattan. Manhattan is the new JerseyCity. Jersey City is the new Staten Island.
• Margaret Sullivan publicly excoriates @NYTFridge for letting Ross Douthat make off with her last raspberry Fage.
• Lena Dunham's vagina causes a near-riot with an unprintable rant at the MTV Music Awards.
• Anna Wintour becomes the most effective ambassador to France since Ben Franklin, but after she flies a kite in a thunderstorm, her hair is never the same.
• Turns out, Leonard Cohen's "ChelseaHotel #2" wasn't about Janis Joplin. It was about Sally Singer.
• Katie Roiphe opens a cupcake shop.
• In the season two finale of The Newsroom, Will McAvoy yells at a girl.
• The town of Hyannis Port, Mass., officially changes its name to HyiannisPort out of respect for Taylor Swift's spelling of it in her album's liner notes.
• The Stefon thing starts to get old.
• Due to a tightening real estate market, all Brooklyn authors move into a DitmasPark house share in the C-SPAN reality TV hit "Franzen 'N' Friends."
• SoulCycle is overshadowed by its more intellectual, albeit flabby cousin, MindCycle.
• Lena Dunham's left breast is spotted making out with Dane Cook at the Chateau Marmont.
• Snooki's baby gets his first D.U.I.
• With the end of 30 Rock, Tina Fey enters the New York mayoral race. She loses by a hair but seizes control of the Working Families party and plays kingmaker for years to come.
• On a very special Homeland, Saul is faced with a stark choice when he is called before the Senate Intelligence Committee on the same day he has tickets for the Cranberries at Wolf Trap.
• Undeterred by the failure of its Snapchat ripoff "Poke," Facebook releases Words with Zuck, Angry Zucks and Zucksquare.
• Taylor Swift stays mum when asked about the real-life subject of her new chart-topper, "Earth to Enrique (I Wouldn't F— You With Gaga's D—)."
• Christian Marclay's The Clock is released as a major motion picture starring Brad Pitt as the minute hand.
• Justin Bieber's hair becomes sentient, signaling the dawn of the Singularity.
• Microsoft upgrades its flailing retail stores with holograms of Steve Ballmer yelling at customers, and sales spike.
• Lloyd Blankfein says goodbye to Wall Street to replace Paul Shaffer as David Letterman's wise-cracking sidekick.
• MORE CUTE ANIMAL VIDEOS!
• Preet Bharara indicts Lena Dunham's right breast over a minor nip slip.
• Jamie Dimon phone sex recording surfaces: "Baby, I've got the deepest, widest capital market in the world."
• Kristen Stewart is caught smiling by a paparazzo, who immediately turns to stone.
• In effort to shore up his flagging mayoral campaign, John Liu seeds a rumor that his wife Jenny was "obsessed" with Pink's first album.
• The Chelsea art district is purchased by Messe Schweiz, owner of Art Basel, and becomes an art fair. Booth sizes are small, medium, large and the-booth-formerly-known-as-Gagosian-Gallery.
• A new H&M&M store opens in Manhattan, featuring fashions right off the runway in a colorful candy shell.
• After Kris Humphries is traded to back to the University of Minnesota, Kanye West's country album tanks and Bruce Jenner cuts himself shaving, The Kardashian Kurse is green-lighted for 12 episodes on E!
• Anna Wintour and Graydon Carter retire; Vogue and Vanity Fair merge to become luxury powerhouse Voguerty.
• Deborah Needleman takes the editor in chief spot.
• Jessica Chastain is booked for first four covers.
• Twitter's privacy policy is amended to include the language "may be incorporated into a CNN news ticker or Times Styles trend piece."
• Kate Middleton gives birth to a child whose name is something super normal.
• Jon Cryer and all remaining cast and crew publicly announce they also hate "Two and a Half Men."
• Chris Christie is charged with harassment after sending 2,398 unreturned emails to Bruce Springsteen.
• Taylor Swift finally comes out of the closet in a controversial Us Weekly cover story, "Yep, I'm a Chronic Late-Night Cereal Eater."
• After Preet Bharara indicts every remaining employee of SAC Capital, Stevie Cohen subjects the Damien Hirst shark to a furious harangue.
• Honey Boo Boo's new restaurant, Times Square Sketti Trailer, is awarded a remarkable three stars by Pete Wells.
• Brian Williams is spotted in Times Square asking German tourists if they "like comedy." (They have a jam-packed week, but they'll definitely try to stop by.)
• Death, mayhem, the usual.
What else? Add your own predictions in the comments.