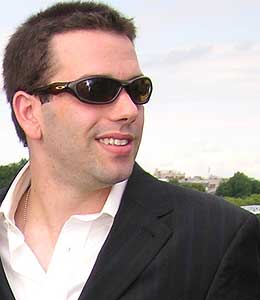 Ori Allon, the charmed entrepreneur who has already sold one company to Google and another to Twitter, has been feverishly working on his third—Urban Compass. So far, Mr. Allon and founder Robert Reffkin won't even say what Urban Compass does. But that air of mystery hasn't slowed the company's growth—they have raised $8 million from an impressive group of seed funders including Goldman Sachs, AmEx CEO Ken Chenault and Thrive Capital*. The start-up now has 18 employees and counting.
One of those 18 offers a clue to what Urban Compass will actually involve, and our guess is real estate. As first reported by The Real Deal, Gordon Golub, who was an Executive Vice President at Citi Habitats, left after 18 years to join Mr. Allon and Mr. Reffkin.
In an interview with The Observer, Mr. Allon said the idea for Urban Compass would be elemental. "I want to help people with their most important decisions. Anything from data collection to other services. So yes, real estate will be a part of it."
Part of it?
"I want to help people find what they want," said the dashing 32-year-old Israeli, who is so good looking that one commenter on The Verge wondered aloud, "Why is he even working? He should be getting paid just for being so handsome."
Pressed to show a little more leg, Mr. Allon revealed a few more details, telling The Observer: "This is more of a real world problem that you're trying to solve. It's not a pure technology company. The other two"—referring to Orion, an algorithm he sold to Google in 2006 and Julpan, a social information tool he sold to Twitter in 2011—"were pure technology. Here, the operations side is very big. That's why we have people like Gordon and Robert, who have a lot of experience." Another co-founder, Mike Weiss, also comes from a real estate background, having worked in the real estate investment division at Goldman Sachs.
C'mon, Ori, can't you give us a hint? "People will know very soon. We'll have a beta version by the end of the quarter, which will be open to a limited number of people and by the summer, everyone will know what we're doing."
Startups are like professional sports—the world hears only about the one that becomes monetized, not the thousand that ended in heartbreak. Someone who creates two different companies that get bought by tech giants is about as rare as Bo Jackson playing pro football and baseball. And now Ori Allon is looking to become a three-sport athlete. Will he succeed? It's tough to bet against a guy who's done it twice, even if he won't reveal the exact nature of the business.
But here's something Mr. Allon will actually share. Mr. Allon isn't trying to lure a tech giant this time, he is building something he hopes to run. "My main motivation is not to sell the company. I'm very happy with my previous companies, and I'm happy that those technologies are part of Google today and part of Twitter. But now I'm building a platform. A human network. And a lot of our success, hopefully, will come from this operation. We just want to make life easier for New Yorkers."
*Disclosure: Thrive Capital is invested in several start-up companies. Josh Kushner, a Thrive principal, is also part-owner of Observer Media Group. Observer Media Group has no affiliation with Thrive Capital and the views expressed here do not necessarily reflect the opinions of Thrive Capital or its principals.