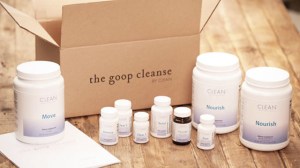 Guys, have you wondered what sort of cleanse Gwyneth Paltrow is endorsing for the new year? Is it Diet Detox? Her patented Colon Cleanse? The Clean Program?
In 2013's first big shock, Ms. Paltrow revealed in a surprisingly curt GOOP newsletter that this January's cleanse will be … no cleanse at all! WHAT?
Happy 2013! I am not on a detox. I am not on a diet. I know, New Year's cleansing and all that. Not this year. Can't do it. Maybe later in the year. Maybe in the spring. So for now, I would like to continue with my pasta and cheese, but perhaps be more mindful of ingredients. I asked my friend Dr. Frank Lipman about his list of superfoods so that I could incorporate them into my diet a bit more. If you are going to eat pasta, why not serve it with a walnut pesto (walnuts are on his list)? You get my point. We had great fun in the goop test kitchen coming up with these ways to incorporate these miraculous foods into very tasty recipes. We hope you enjoy.

Love,
gp

P.S. New Year's holiday snaps from Sugar Beach below.
That's right folks, Gwyneth Paltrow is NOT ON A CLEANSE, and we can all eat pasta again. Hooray!