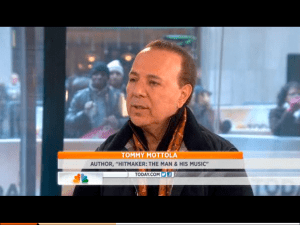 When Tommy Mottola walked into the Today show Tuesday morning, he was not just tolerant of the paparazzi waiting outside Rockefeller Plaza—he was plainly delighted that someone wanted to take his picture. Mr. Mottola's new book, Hitmaker, has the music mogul doing the press circuit, recalling the stunning innovations he brought to the music industry, back when it still resembled an industry.
As CEO of Sony Music, the onetime trumpeter and mentee of the legendary Walter Yetnikoff transformed his company in every way. Mr. Mottola built the fading, AOR-leaning company (think Dylan and Springsteen) into a world power by launching the careers of countless Latin stars (Jennifer Lopez, Marc Anthony and Ricky Martin) and breaking Celine Dion and Mariah Carey out as global brands. He bought the Beatles catalog and foresaw the devastation of Napster by making Sony the first major company to offer digital downloads for sale.
As Mr. Mottola stopped to chat, the Transom caught a whiff of something that's impossible to learn and harder to teach—confidence. The discoverer of a stunning number of musical giants (Shakira, Gloria Estefan, John Mellencamp, Taylor Dayne, Ms. Lopez and Ms. Carey, whom he later married and divorced, as well as international sensation Thalia, whom he later married and did not divorce) and the nurturer of countless others (Aerosmith, Tony Bennett, Ozzy, Billy Joel, MJ), Mr. Mottola believes that the reason they were huge is because he is huge. And he is.
Tommy Mottola believes in himself like other men believe that two plus two equals four. He has told us countless times over the years that he attended "The Bronx School of Business," as a way of saying that his lack of a formal education actually helped his ascension to the apex of Sony Music. When he first said it, we thought the phrase was corny, maybe delusional. Now we think it's awesome. Confidence is contagious.
Mr. Mottola was shown the door at Sony, even as his predictions about the music business largely came to pass. But there's that confidence thing. Mr. Mottola had made enough dough to retire to his ranch and raise the young kids he had with his gorgeous TV star/singer wife. Instead, he bought PolyGram records, relaunched the careers of Marc Anthony and Lindsay Lohan (again), and discovered Cassie Ventura and Mika, whose "Grace Kelly" is pretty much the greatest Queen song that Freddie Mercury never sang. Then he joined the board of Restoration Hardware, and he was the very first to mention "coconut water" to the Transom, with total certainty that it would become the enormous fad that it almost kind of has.
Hitmaker is the story of a man who built a colossus that became too big for its own fading industry. But man, did he have fun while it lasted. As he paused to talk to the Transom, he was excited to tell us that he's also headed to "Morning Joe, O'Reilly, Bartiromo, Piers Morgan, Fallon, you know, on and on and on." At 63, he can still get away with wearing sunglasses on a not-bright early morning and remain convinced that his taste is the world's taste. Maximum confidence.