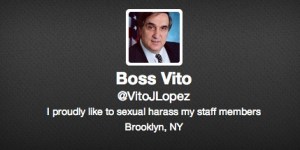 Assemblyman Vito Lopez has a new problem on his hands to go along with the ethics committee that is investigating him for sexual harassment complaints filed by four female former staffers. Some time this afternoon a hacker gained control of Mr. Lopez's Twitter account and began posting a series of messages insulting the embattled politician and praising one of his rivals.
"We're trying to figure this out," a staffer in Mr. Lopez's district office said when Politicker called them to ask about the hacker a few moments ago.
Prior to the sexual harassment scandal, Mr. Lopez enjoyed a powerful perch as chairman of the Brooklyn Democratic Party. He resigned from his party leader position in late August shortly after the sexual harassment allegations surfaced. As leader of the Brooklyn Democrats, Mr. Lopez developed a cadre of particularly vehement opponents fond of criticizing him as a corrupt party "boss."
Once the impostor gained control of Mr. Lopez's account today, they changed his name on the site to "Boss Vito" and modified his biography to read, "I proudly like to sexual harass my staff members." They also posted a message on the account.
"I'm Assemblyman Vito Gropez, I like to sexual harass my staff members, and to boss on the entire Brooklyn democratic party," one message read.
The hacker also posted a series of tweets cheering on Abe George, a candidate for Brooklyn District Attorney allied with the anti-Lopez faction. They also retweeted a post from Mr. George's account criticizing the current D.A. for not investigating Mr. Lopez and being unwilling "to go after political corruption."
As of this writing, the hacker has not responded to a Twitter message asking them to get in touch for comment on this story. The staffer in Mr. Lopez's office said they are working to resolve the situation as quickly as possible.
Update (4:45 pm): Inimitable Crains reporter Chris Bragg spoke to Mr. Lopez about the hacking. The assemblyman said he didn't send the tweets in question and hasn't sent any other tweets ever, for that matter.

"I don't use the Internet. I've never sent out a tweet or an email. I've never sent out a twit," Mr. Lopez said.