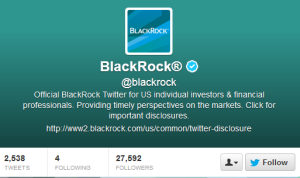 We're often told that Facebook's tumultuous initial public offering—not to mention disappointing post-IPO results at social web companies such as Zynga and Groupon—have rejiggered the tech landscape, making investors and founders alike wary of the public markets. And yet, the more things change …
According to multiple outlets, investing giant BlackRock has agreed to buy an $80 million stake in Twitter in a deal apparently designed to give liquidity to early employees and in turn, provide the microblogging service some breathing room before it's more-or-less inevitable IPO.
If that sounds familiar, it's because about two years back, Facebook struck a deal with Goldman Sachs in which Zuck & Co. raised $500 million from the Wall Street bank formerly compared to face-sucking mollusk, providing the social media giant cash for acquisitions and hires, and a means to paying out early employees who might have otherwise lobbied for an IPO.
It's not apples to apples—Twitter's BlackRock deal doesn't raise cash for the company—but appears to buy Twitter time before an IPO. Per Dan Primack, who reports that the ability to sell shares is only open to about two dozen employees:
From Twitter's perspective, the goal is to forestall employee agitation for an IPO. This is a particularly salient problem at the micro-messaging service, because it has taken a much harder line on secondary stock sales than did companies like Facebook.
Meanwhile, BlackRock's interest in Twitter seems to indicate that investment firms weren't so scarred by the Facebook fiasco that they're not willing to take another ride with a social media company. If the valuation in the deal—a reported $9 billion, up from more than $8 billion at the end of 2011—sounds more sober than the numbers tossed around in the run-up to the Facebook offering, maybe that's evidence that some lessons were learned after all.
And for those of you who keep track of such things, BlackRock is among the Wall Street firms to maintain a Twitter presence, though sadly, has yet to tweet any news of the deal.