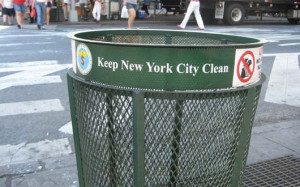 Something stinks on the Upper East Side.
According to DNAinfo, Upper East Side residents are fed up with the way the Clermont, a luxury apartment building at 444 East 82nd Street, dumps its trash.
Building staff faced a trash tribunal at a Community Board 8 Environment and Sanitation Committee meeting last week. Residents, board members and sanitation department representatives gathered to talk trash—blaming the Clermont for the huge, messy heap of garbage bags they said often block the sidewalk on York Avenue near 81st Street. One area resident called the garbage an "eyesore" and "an outrage."
We completely agree with New York City's garbage collection system being gross, but how, exactly is it an outrage? Is not the sidewalk trash bag heaping system observed throughout the city?
Abraham Rill, a manager at the Clermont who attended the meeting, dismissed the complaints as rubbish, and refused to acknowledge the claim that the Clermont's trash is any more offensive than that of neighboring buildings. Rill suggested that all garbage is unsightly, no matter where or how it's dumped.
So why, exactly, has the Clermont been singled out? Is it really that much worse than other buildings?
The Observer reached out to the Department of Sanitation's community liaison Iggy Terranova to help us sift through the refuse. Mr. Terranova confirmed that the accumulation outside the Clermont is large, but explained trash piles of that magnitude are not unusual for New York. In a city of 8 million people, there is bound to be a lot of garbage—and a lot of complaints.
The Clermont has faced several sanitation sanctions in the past—the Department of Housing Preservation & Development has registered three violations for big piles of refuse that had been stored in the building's private courtyard. According to HPD's website, at least one of these violations yet to be resolved.
Though the heaps are irritating to residents and passersby, perhaps it's time for them to take their bellyaching to the curb. After all, trash is trash, no matter how you stack it.