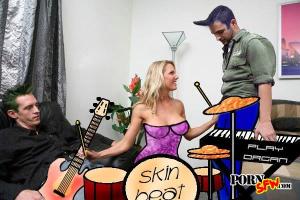 Care of Uproxx comes Betabeat's new favorite site, Porn SFW, which collects user-submitted images of porn that have been made safe for work by superimposing silly Microsoft Paint drawings overtop of them. Basically, people take screenshots of gross porn scenes and then use Microsoft Paint to make the images ostensibly safe for work (though we wouldn't recommend sending them to your boss any time soon).
There's this girl who's learning to play the drums; this girl who's practicing her DJ skills; and this girl who prefers the pirate's life.
Porn SFW is part of the Hoursehead Network, which also hosts gems such as Tattoo Failure and Japan is Weird. Enjoy?