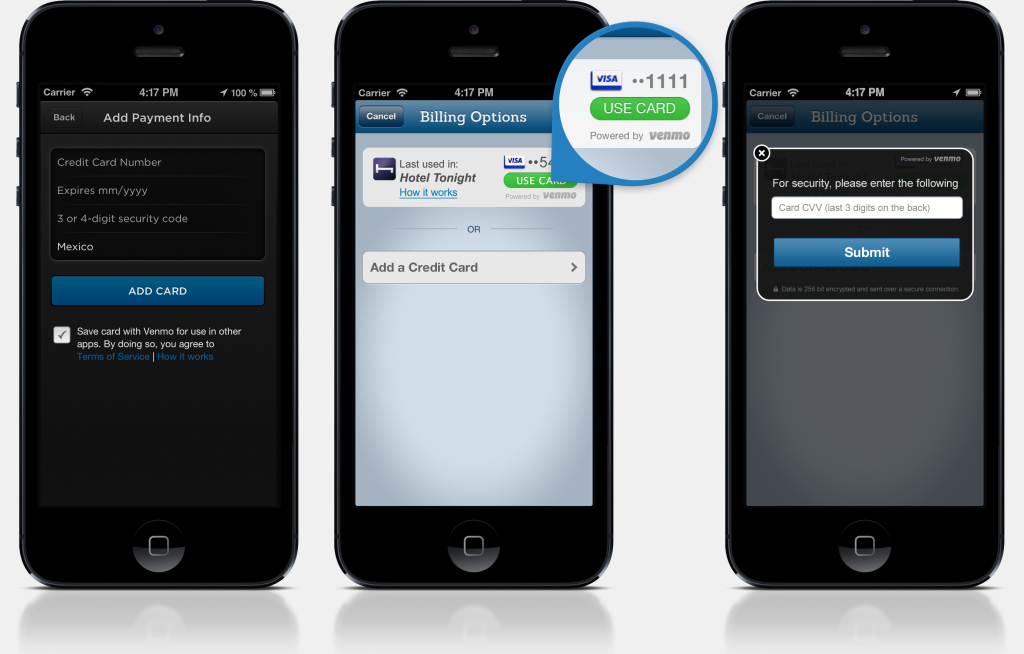 Last August, Silicon Alley darling Venmo, a mobile app that lets you split bills and pay friends, was acquired by Braintree, a PayPal competitor, for $26.2 million. At the time, Braintree emphasized the shift towards mobile commerce. And it looks like having a consumer-facing brand like Venmo is helping in that department.
Today, they announced the launch of Venmo Touch, which should help lower the barrier to buying things on mobile by avoiding the hassle of having to enter your credit card information with every new app . . . as long as it's part of the Braintree family.
Enter your credit card info on the TaskRabbit app (a Braintree client), for example, and an option pops up to "save card with Venmo." If you opt in to the service and then open the HotelTonight app (another Braintree client), it will ask if you want to use the same card on file. All you need to enter is the CVV code.
Of course, the mobile payments market is plagued by fragmentation. For example, how is the average consumer supposed to know that Best Buy and Walmart are on the same network, whereas Duane Reade is with Google Wallet and Starbucks is with Square?
Braintree has an advantage there because it happens to be a popular payment platform with the kind of apps you might actually make purchases on. Venmo Touch is debuting in private beta on HotelTonight, TaskRabbit, Wrapp, and more and Braintree expects that other clients like Uber, Fab, and Livingsocial will take advantage of it, as they have one-click check out.
Now that Venmo Touch has launched maybe cofounder Andrew Kortina can finally get some sleep?