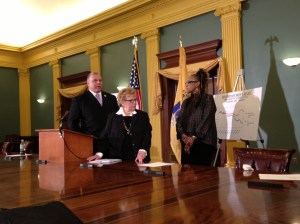 TRENTON – Senate Majority Leader Loretta Weinberg criticized Gov. Chris Christie Monday for waging a "war on women."
Weinberg criticized Christie during a press conference held by state Democratic leaders a day before the governor's annual State of the State address.
Weinberg criticized Christie on his decisions to veto several gender equity bills, and she sought to link the governor to GOP lawmakers on the federal level, saying New Jersey's governor follows the Republican Party and does little to be a middle-of-the-road elected official.
"The Democratic members of the New Jersey Legislature have taken a stand against the Republican war on women," she said. "We will continue that fight in 2013 and we will continue to stand up for women [and] their families, and we will continue to stand up to this governor."
Earlier, Senate President Steve Sweeney accused Christie of "conveniently using" super storm Sandy "to ignore these other problems" in the state. Sweeney urged residents to not forget about the "true state of the state" and called attention to what Democrats say is the governor's biggest failure in the state – jobs.
Earlier story: