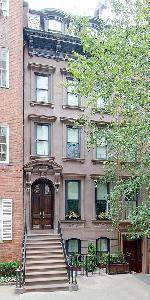 "I realized I hadn't been up to my library in six months. My wife pointed out that neither of us had been to the parlor in the last three," art dealer Otto Naumann recently confessed to The Observer. "We were basically living on two floors."
The Naumanns' townhouse on East 78th Street had five, in addition to an elevator meant to relieve the headache of traveling between them. Perversely, the couple quickly discovered that the elevator made it easier not to get around the house. They were bypassing entire floors without so much as a glimpse from the stair landing for weeks, even months. Prized possessions, like a beloved boat sculpture, were stranded in neglected corners. After two years of rattling around the brownstone behemoth, they admitted defeat and retreated to a 2,500-square-foot cond-op.
They weren't the first, or only, townhouse dwellers to find the vastness and verticality of their home daunting. While such residents would seem to be living the dream—the exceedingly common one in which the dreamer discovers extra, hidden, previously unexplored rooms in his or her own house—it can sometimes feel more like a nightmare.
In a city where most residents are desperate for an extra room—and uncomfortably familiar with every ceiling crack and plaster chip in their diminutive apartments—having too much space could hardly be called a problem, let alone an occasion for sympathy. But it is a phenomenon, one that surprises the homeowners as much, if not more, than anyone else. Some owners admit to staring into the hardwood-floored, ceiling-medallioned abyss and wishing for the unthinkable: a smaller house.
"It's like being too rich or too thin," remarked Jed Garfield, a broker at the boutique townhouse firm Leslie J. Garfield & Co. Inc. "You can't be too rich, too thin, or have too big of a house." He laughed, admitting that his 4,500-square foot house was, in fact, a little large for his family of four.
"The reality is that we live in the kitchen and the library. We have a living room and two guest bedrooms that we never use," he said. "I can't think of anyone besides empty nesters who has left a townhouse because there was too much space, but it's certainly not uncommon to hear people say things like, 'I haven't been up there in a couple of years.'"
A couple of years?
"Especially as people get older, they tend to just use the first three floors," he explained. In almost all townhouses, that's where you'll find the living room, the dining room, the kitchen and the master bedroom. Is it really any surprise that residents end up camping out downstairs?
"The kids go to boarding school, and the parents end up living in the kitchen, the dining room and the den," said another broker. "Sometimes not even the dining room. And the only person who goes to the sixth floor is the maid."
For New Yorkers, space is intoxicating, and buyers can easily find themselves under the spell of a townhouse's square footage, which commonly clocks in at between 4,000 and 8,000 square feet (although some homes, like the Woolworth mansion, swell to 20,000). Manhattan townhouses don't come cheap, but they're often a much better value than comparably sized co-ops and condos. And there's something sublime about having an actual house in the middle of Manhattan. But townhouses present unique challenges that co-ops and condos don't. Among them: figuring out how to use a space that's been designed for a different era, when live-in staff were the ones doing most of the hoofing up and down the stairs.
"I think the phenomenon of under-utilized space is due partially to the natural inclination of our species to view everything horizontally," reflected Mr. Naumann. "We don't envision spaces above or below us. It's also our inherent laziness. Why climb stairs or enter a slow elevator unless it's essential? And it rarely is."
Plus, 19th-century floor plans don't allow for good flow.
"It's common for clients to fall in love with an old townhouse's charm but want to bring in modern sensibilities and ideas, space and light," said architect Julian King, who has done a number of townhouse renovations. "Old spaces were very cellular, with framed doors leading to more framed doors."
There are many ways to encourage better use of a space with a redesign, he said. Still, there are limits.
"We have a client in Carroll Gardens who is very concerned with how many footsteps it will take to go from the garden to the top level," Mr. King said. "It's constant topic of conversation—how can we make it more efficient? But it's not a hospital. It's a house."
kvelsey@observer.com