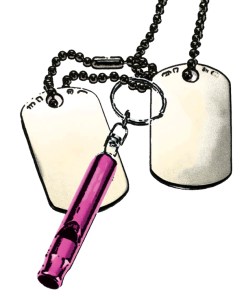 For 30 years, women's groups have been fighting to put American women in combat. Last week they won. Women can now apply for 237,000 positions—primarily infantry and army—from which they were previously banned. That's a quarter of a million new jobs, and outgoing Defense Secretary Leon Panetta deserves applause for opening them up.
But is it really time to uncork the champagne for our future G.I. Janes? Allowing qualified women into combat is a political triumph. But there's a more insidious problem for women in the military, a misogynistic tradition older than the nation itself: when men go to war, women get raped.
In the Iraq and Afghanistan Wars, "military sexual trauma" has been so pervasive it got its own acronym: MST. According to a Defense Department survey in 2010, an estimated 19,000 American servicewomen were sexually assaulted—that's a stunning 11 percent of the total number serving. Yet, in 2011, fewer than 500 sexual assault cases made it to court martial, and the number of actual convictions and prison sentences is in the low hundreds.
Greg Jacob is policy director at the Servicewomen's Action Network, one of the organizations that fought for allowing women in combat. SWAN has also been at the forefront of publicizing the outrageous rate of sexual assault in the American military. He said the ban on women in combat has itself helped create a "two-tiered" military that encourages sexual violence against women. "A group of men consider themselves to be warriors and can do any job. And if you can't do that role, you are considered extraneous or lesser-than, and you have second-class soldiers. Lifting the ban will get rid of that and force the command to treat women equally," he said.
We can only hope. At Army bases in Iraq, servicewomen were under orders not to use the latrines at night, or if they really needed to go, to have armed guards to protect them—not from the enemy, but from American men who had become predators.
Given that reality, sending more women on remote and dangerous missions simply puts more women at risk. The worst outcome of the lifted ban would be that women may now serve in combat but still fear unpunished rape by a fellow soldier.
This isn't something the supporters of lifting the combat ban enjoy talking about. Author Helen Benedict, who has spent years covering military sexual trauma, says servicewomen don't like to admit sexual assault because it makes them appear to be victims. But even those who are not actually assaulted may face egregious levels of sexual harassment and abuse at all levels, especially on remote bases where they are outnumbered by men by orders of magnitude.
Last year, I worked on a project about homeless female veterans in Washington, D.C., New York and Phoenix, and I was stunned to hear so many stories of harrowing sexual harassment and outright assault. These incidents had lasting effects on the subjects' mental health and ability to function in civilian life. One woman, who had worked as a clerk at a supply warehouse on one of the larger bases in Iraq, recalled being propositioned several times a day during her entire tour of duty by men who begged her to take off her clothes and give them oral sex. Another woman told me she was raped by a sergeant at Fort Hood, in Texas. The Army launched a criminal investigation, but never filed charges because she couldn't prove that the sex was not consensual. She claimed that one of her commanders told her she would never see justice because "he's an asset and you're a liability."
Mr. Jacob said that lifting the ban is not the sole solution to the military's sexual assault problems. "The key thing is how you do an integration like this," he said. "There has to be follow-out in the implementation. As an organization, that is what we will be working on." For example, he said, even with the repeal of Don't Ask Don't Tell, The Uniform Code of Justice restricts sodomy, meaning that one can be openly gay, but sex is against the law.
What's clear is that commanders need to start throwing the book at sexual predators in the ranks. Lifting the ban on women in combat is a step in the right direction for women's rights, but we haven't yet won half the battle.