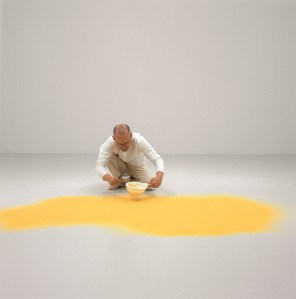 Last Thursday, as visitors to the Museum of Modern Art queued in the second-floor atrium for Christian Marclay's The Clock, some of them probably couldn't help but notice that they were joined in the airy space by a slight man hunched over on a low, cordoned-off platform adjacent to the line. Bald, bespectacled and in a dingy sweater, he focused his attention so keenly on a tiny spot of color on the 24-by-27-foot dais that he seemed not just uninterested in the Clock crowd or the blockbuster work of art, but even immune to the concept of time itself.
This was the artist Wolfgang Laib, 62, who at that moment had put all his attention into sifting and sweeping a two-foot square of yellow hazelnut pollen on the platform, kneeling before it in socks, like a monk, for hours.
"I think other people couldn't do it for 15 minutes, sitting there and sifting this powder," Mr. Laib said a few days later, "but for me it's like a drug, sitting there." This weekend, during the hours when the museum is closed, he will install an 18-by-21-foot pollen piece, his largest ever, on that low platform in the atrium. For the most part, he'll be alone, though one or two museum workers will stay on call in case of "airflow problems." While not an adherent of any one Eastern philosophy, Mr. Laib has been greatly influenced by them all, and you sense he has a Zen attraction to the piece's solitary production. "You sift this powder and you are in this cloud of it," he said. "It's very strenuous to sit there for so many hours, but for me it's like collecting the pollen, something very emotional."
Mr. Laib has long worked with organic materials like milk and beeswax, and will soon install a permanent wax room at the Phillips Collection in Washington, D.C., but his best-known work involves pollen. He collects it from the flowers near his home in Biberach, Germany—pine, hazelnut and dandelion pollen, mostly. Fans often invite him to collect it in Australia or California, where there are more varieties, but it's difficult to imagine how he'd fit such pollen tourism into his artistic practice.
Hazelnut buds flower for just four to six weeks in the spring, Mr. Laib said, so each year yields him only a jar of pollen. For the MoMA piece, which runs January 23 through March 11, he will use around 18 jars. The end result should be stunning, if a little terror-inducing for those with allergies. (MoMA's statement on that matter: "The MoMA presentation of Wolfgang Laib's Pollen from Hazelnut follows a long history of the artist's work with natural materials. The artist has created pollen fields dozens of times over 36 years, in high profile, highly trafficked museums and institutions around the world, for as long as one year, and we do not know of any incidents. For the MoMA installation, the artist is incorporating the same materials in the same manner.")
It's difficult to describe how yellow his pollen is. There's something almost neon in it—it's rich and bright—though it also feels denser, more solid than neon, even though it's spread thinly. An Impressionist might have used a diluted version to paint a field, though on its own it makes your eyes pulse.
"I think it has to do with the fact that I'm not binding it with anything," Mr. Laib said of the color's intensity. "These particles are so fine, there's a large amount of surface area exposed. As soon as I would use a bind, like a paint, I would lose this completely. It would look like any paint."
His artistic forerunners include the Minimalists and Joseph Beuys, who also favored wax as a material, though to watch Mr. Laib sprinkle the pollen on the stone slab—and then scoop it up again with a big brush, then a smaller brush, then a still smaller brush—is to see his work as tied to the artistic process in general. If Mr. Laib paints with pollen, crawling like a bug on the canvas, his every consideration represents the moment when Caravaggio hovered his brush, unsure if the next stroke was right.
Not that Mr. Laib is going for that kind of statement. Performance-like though it may be, the installation is not necessarily a part of the piece. Moreover, he came to art after studying to be a doctor, and when he developed his process not long after that, he did so out of a compulsion to explore the realms of the natural and the spiritual, not to make some commentary about the contents of a museum.
"The pollen piece looks like a yellow painting," he said, "but it's much, much more. It's not a yellow pigment, which is very important for me. It's the potential beginning of millions of plants. It's the semen for the plants. And this I was interested in. It has an appearance, maybe, like a painting, but the sun is not a round ball. It's much, much more. The sky is not a blue painting. For me, these things were somehow very important. I would have stayed as a doctor, if art was only about this color or that color."
People have wept over his pollen pieces, a response he finds gratifying. You get the sense that, like Hesse's Siddhartha, his life is a constant negotiation between isolated, personal study and the need to engage society. Just six months after med school, he developed his first "milkstone" sculptures—white marble works with a recessed area that holds milk, changed daily so that it is indistinguishable from the stone—and he rushed to show his doctor friends this discovery.
"I think the milkstone is about having this concentration of life that only lasts for a few hours on this white marble," Mr. Laib said. "It was a direct result of my studying medicine for six years and seeing what happens in hospitals, and possibly a reaction to the limits of medicine."
This is to say that he is not the recluse he might appear to be. He has two shows opening in New York this spring while the MoMA installation is up, one at Leslie Tonkonow gallery in Chelsea and the other at the Lower East Side gallery Sperone Westwater, his longtime New York dealer, where his pollen work had its New York debut in 1979. That piece was minuscule compared with the MoMA project, tucked away in a corner of the gallery, though gallery co-owner Angela Westwater said she was able to sell it. This was a surprise, as she found the piece "pretty radical" for the time.
In February, Mr. Laib will travel back and forth between New York and Washington, D.C. The Sperone Westwater show, which includes a 14-foot-high beeswax ziggurat sculpture, jars of pollen and new brass pieces in the form of ships that navigate mounds of rice, opens on March 1, and the next day the Phillips Collection inaugurates its wax room, the first site-specific one to be permanently installed in an institution. The installation will mean lots of time in the capital for Mr. Laib, as he'll have to melt 20 blocks of beeswax, some 900 pounds of it, and apply it to the walls and ceiling of the room. Mr. Laib's wife is from New York, though, and it will always remain their American base of operations. They keep an apartment off Madison Square Park.
"I don't like the parks," he said, when asked about what part of the city he likes. "People always say they think I should go to a park, and for me, the park is about the saddest place in the city."
It's not the Baden-Württembergian wilderness, no. Mr. Laib seemed more in his element at MoMA, surveying the small patch of pollen he'd sprinkled from various positions in the museum. Arms akimbo, he considered the spot. Then he moved to another side of the square to see what the color and texture looked like from there. He stared at it for some 10 minutes. It was impossible to tell whether or not he squinted. His small eyes, behind his small glasses, often appear narrowed. After about an hour of this observation, interrupted every now and then by chats with curators, he left the space and seemed to retire for the day. Fair enough—one can only spend so much time on pollen. But if you'd looked up just as you were leaving yourself, you would have noticed his tiny bald head peeking over the railings of the other floors that look down onto the atrium, as he checked to see how the color looked from each new height.
dduray@observer.com