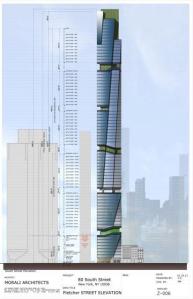 Santiago Calatrava's 1,123-foot tower of cubes at 80 South Street has been dead for almost five years, but Cord Meyer (of Forest Hills fame) has selected a local designer to revive the site: Morali Architects.
Anthony Morali released elevation drawings of his 998-foot, 300,000-square foot design, which will feature apartments rising from a hotel base with garden space integrated into the tower.
In a phone conversation with The Observer Mr. Morali described his design to us. "It has some of the features of segmentation" in common with Calatrava's tower, he said, "but what we're really trying to do is integrate sustainability and gardens."
The tower will feature "vegetative roofs," which won't just be for show—"we're working with Don Pintabona, Robert DeNiro's chef. We're working on a shared kitchen and vertical farming," he explained, and suggested the building could send food to area eateries, including Jean-Georges, the three Michelin star restaurant at 1 Central Park West. "We'd grow things like exotic mushrooms and herbs."
The tower includes cut-outs every ten stories, which will eventually bloom into gardens. "Instead of having a balcony," Mr. Morali said, "residents would have a 3,000-square foot oasis." He hopes the gardens will help residents regain a sense of place, avoiding the feeling that "you live in an airplane or a dirigible." (Though now that he mentions it, living in a dirigible sounds preferable to some Manhattan housing options.) "This way you look out your window and see a vertical garden."
Mr. Morali told The Observer that he sees the diagonal articulations along the building's façade as imitating "the sheen of water when it hits the surface and you get subtle waves and angles."
The design is still in the initial stages of city review and has not yet been approved by the Department of Buildings, but the architects and developers have been in contact with planners about certifying the air rights that were purchased from neighboring landmarked buildings.
"Amanda Burden's always very hands-on. She wasn't there [at the meetings], but she's been looking at it," Mr. Morali said.
And it has already won a few fans. Nikolai Fedak of New York YIMBY wrote that "80 South Street's scale is impressive for the neighborhood, as the eastern side of the FiDi is lacking in height." But if it's built, he continued, it will "help balance out the presence of the new World Trade Center."