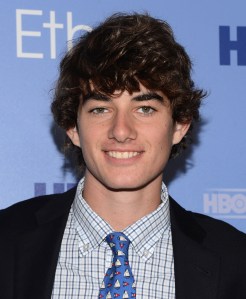 Conor Kennedy, the 18-year-old son of Robert F. Kennedy Jr. and second-most-recent ex-boyfriend of Taylor Swift (right behind Harry Styles from One Direction), was arrested yesterday for protesting at the White House.

Along with his father and actress Daryl Hannah, Mr. Kennedy was seen marching outside 1600 Pennsylvania Avenue to protest the proposed Keystone XL tar sand pipeline. Both father and son were arrested for their part in the demonstration, which claimed that the proposed pipeline would "boost carbon pollution by triggering a boom of growth in the tar sands industry in Canada, and greatly increasing greenhouse gas emissions."
Meanwhile, his ex-girlfriend has been spending her time since the Grammys making fun of her ex-boyfriends in a new music video (as she is wont to do). Luckily, it might take her a while to work all the way back to the Kennedy–in part because his family was so nice to her, and in part because she seems hung up on mocking Styles–so he might actually escape the dreaded John Mayer curse.
He'll have more trouble, however, avoiding the court summons.