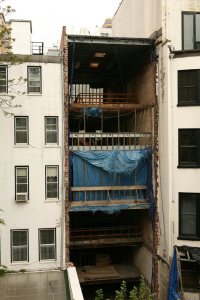 It turns out that the townhouse at 12 East 82nd Street did not, in fact, sell for anything close to its $19 million asking price. An in-progress gut renovation and a missing rear wall proved daunting, even in this giddy trophy market.
When The Observer first learned that the five-story brick federal townhouse was in contract early this January, we were taken aback. We have, after all, seen a lot of bold asking prices and Janna Bullock, the Russian developer selling the place, is famously fearless when it comes to defending her real estate investments and her honor. But $19 million beggared belief. Assuming that the would-be owners had likely knocked the price down, we called Sotheby's broker Nikki Field, who has the listing with colleague Patricia Wheatley.
Ms. Field told us that the townhouse was not only in contract, but in contract for close to the $19 million asking price. The Observer felt like we'd been hit with a ton of bricks—a whole rear wall of them, in fact. Ms. Field attributed the handsome contract, and the decision to raise the price $4 million in December—from $15 million to $19 million—to overwhelming interest in the property.
Now, the sale has closed for a thoroughly underwhelming $15 million, city records show. Ms. Field has not yet returned The Observer's request for comment on the discrepancy (perhaps we just have very different understandings of "close"?)
Ms. Bullock paid $14 million for the house back in 2006, buying it from plastic surgery addict Jocelyne Wildenstein. The house was already in the midst of a renovation at that point, Ms. Wildenstein having decided that the house "needed a little work" and Ms. Bullock gamely continued the job, knocking out walls both interior and exterior before listing the place for $15 million this November. All things considered, the closing price isn't stunning, but Ms. Bullock did get her first asking price and the house spent very little time on the market.
Maybe the buyer, 1282 Street LLC, discovered the missing back wall and demanded a discount?
The buyer's LLC is registered to an apartment on the 17th floor of 151 East 85th Street owned by Leslie Lewis Sword. The buyer could well be someone else, however, given that deeds and residencies don't always match up. And why not leave the new owner at least a modicum of privacy given that he or she will be entirely exposed for at least as long as it takes to construct a new rear wall?
kvelsey@observer.com