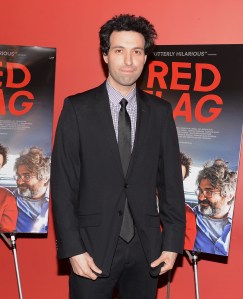 Out of all the actors on Girls, that HBO show that has attracted the same kind of specific, rabid New Yorker-type fan base as Sex and the City [ed. note: see our front-page story], Alex Karpovsky is the most visible. That's not to say he's more famous than Lena Dunham. But unlike the show's creator, he gets around quite a bit. The National Book Awards, N+1 parties, Cinema Society premieres–the man who plays the caustic, anti-social Ray on premium cable is in real life quite the butterfly of the New York literary and film scene.
And his fans aren't always those you might expect.

Just last week, the Transom was walking through Union Square with Mr. Karpovsky, en route to lunch, when an older man stopped the actor on the street. He just really wanted to say how much he liked the show. Mr. Karpovsky estimates that this happens "a couple times" a day.
And in case we didn't believe him, cut to Lincoln Center last Friday night, where Mr. Karpovsky was playing host to a double screening of his two most recent directorial efforts and old Russian men made up a sizable chunk of the Karpovosky fan club.
Then again, it was all the way up at Lincoln Center, and the movies–which were picked up by Tribeca Films for distribution–had an earlier screening on Wednesday downtown. That one ended up making it into Page Six, if only to note that his two much more private male co-stars, Adam Driver and Christopher Abbott, were in attendance.
At Lincoln Center, Mr. Karpovsky held court over approximately 50 people, talking about the films, Red Flag and Rubberneck, both of which were made three years ago. In the former, Mr. Karpovsky plays himself as a kind of fatalistic Larry David/Woody Allen sad-sack shmuck on a cross-country roadtrip to promote his (real) faux-documentary, Woodpecker. (With us so far?) In the latter, a psychosexual thriller, he plays a creepy scientist who indulges an unhealthy obsession with a coworker after a one-night stand.
Surprised by Mr. Karpovsky's output? Don't be. In the time of B.G. ("Before Girls"), Mr. Karpovsky was a reasonably prolific filmmaker, with other movies like Trust Us, This Is All Made Up, The Whole Story and the aforementioned Woodpecker. He's acted in dozens more.
And if this is Mr. Karpovsky's big moment–his arrival on the scene, as it were–he's not going to let it fly by with false modesty. Though he doesn't read the oceans of commentary, nor the commentary on the commentary, about Girls that's practically inescapable if you read newspapers, magazines or the Internet, he does manage to find out what's being written about himself.
"I just have a Google alert for my name," he said. "Though it's quite porous."
With an inescapable cloud of Girls-fame hanging over him, Mr. Karpovsky did confess that fans often confuse him for Ray, as have recent interviewers. But the truth is that there's less of Mr. Karpovsky in his most famous character than one may think. Ray is a Greek Orthodox orphan while Mr. Karpovsky comes from a Jewish family in Boston, where his father is a scientist. Ray is sour and prone to screaming matches over stuff like (literal) garbage while Mr. Karpovsky is harder to ruffle.
"They'll just use Ray and Alex interchangeably," he said, referring to journalists and Internet fans alike. "Sometimes I let it go. Other people will say 'That's the most Jewishy-Jewy motherfucker. How is he not Jewish?'" -Drew Grant