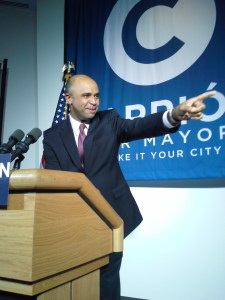 "I know there are some Republicans here in the crowd!"
Adolfo Carrion, the ex-Democrat, grinned at his supporters and waited for the expected cheers.  They trickled in, failing to match the cheering reserved for Mr. Carrion's many self-effacing quips or lofty promises for a nonpartisan mayoralty. For Mr. Carrion, a former Bronx Borough President trying to run for mayor as a Republican, it was an early indication of the uphill battle to come.
"We're casting a wide net, we're casting a big umbrella as we believe that New Yorkers all together under one umbrella care about the future and will build a better city," said Mr. Carrion at his campaign kickoff last night at the Bronx Museum. "And so, my friend Craig Eaton, who is chairman of the Republican Party in Brooklyn and my friend Jay Savino from the Bronx are here."
Mr. Carrion's kickoff on his home turf had all the pomp of a mayoral frontrunner's launch, replete with a children's choir, national anthem singer and even, in a nod to the Jewish electorate he is hoping to woo, a rabbi. In his remarks, he repeatedly stressed that "the best social program is a job," portraying himself as a fiscal conservative fit for a Republican primary, even if his last public job was in the Obama Administration.
"To make our city work, we have to support the men and women who want to start and run a successful business and get excessive fines and excessive regulations off their backs so they can create jobs," he said, alluding to his campaign slogan "make it your city" and adding, "To make our city work, we have to create a business-friendly city whose bureaucracy works for us and not the other way around."
"Who here runs a business here, raise your hand," Mr. Carrion asked, as a few hands shot up. "We need a one stop shop for businesses, for city services. This will create jobs and we know the best social program is a job."
Mr. Carrion recently secured the endorsement of the controversial Independence Party, guaranteeing him a place in the mayoral race regardless of whether he gains the backing of a majority of Republican county leaders. As a registered independent, he currently needs one more county leader to back him. With two committed to him and Queens and Manhattan's GOP chairs committed to billionaire John Catsimatidis, the Staten Island GOP leader will be a tiebreaker. Yesterday's sudden resignation of Richmond County Republican Chair Bob Scamardella, who was learning toward supporting Joe Lhota, may have given Mr. Carrion the opening he needs to gain the Republican line.
As a Hispanic with a war chest just shy of a million dollars, Mr. Carrion offers the Republican Party diversity it desperately lacks, and he emphasized his Puerto Rican background in his speech. Many of his supporters waved Puerto Rican flags when Mr. Carrion first took the stage. However, his Hispanic base is overwhelmingly Democratic, making any Republican primary victory contingent on winning over many white, older voters. His Republican rival Mr. Catsimatidis even suggested he run in another race. Whether or not he wins the Republican primary, Mr. Carrion could help a Republican in a three-way race because Mr. Carrion has potential to peel off traditionally Democratic-leaning minority voters.
His campaign, like many others, is also not be without baggage. The city ethics board fined him $10,000 in 2011 for using an architect to design a porch for his home who was also working on official city business. Hoping that will not impede his Gracie Mansion ambitions, Mr. Carrion sought to portray himself as the only candidate who can awaken the roughly 70 percent of the population that did not vote in 2009's mayoral general election.
"I'm not appealing to you as Democrats or Republicans or independents, I'm appealing to you as fellow New Yorkers," Mr. Carrion said. "Let's just bring an end to the politics of paralysis and division and make it your city. Let's get involved and make it your city. Let's register your neighbors to vote and make it…"
The crowd finished his sentence for him, "Your city!"