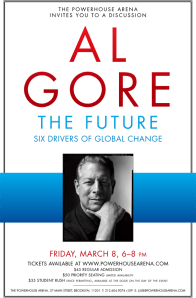 Mark your calendar, young technologists: former governor, vice president and Internet Hall of Famer Al Gore is speaking in the Dumbo section of Brooklyn next month and if you're lucky, you might be graced to hear the grand old man for a reduced price of $35. Mr. Gore, who, ahem, did not invent the Internet, did however write a book called The Future: Six Drivers of Global Change. It pubbed last month and Chrystia Freeland called it "sprawling" and "messy," also "brave, original and often fun" in The Washington Post.
Unlike your average non-vice presidential book event, tickets to hear Mr. Gore speak at Dumbo's PowerHouse Arena are going for $45 a pop (students can rush for $35 at the door).
On the bright side, tickets guarantee an autographed copy of the book. No word on if he signs tablets.