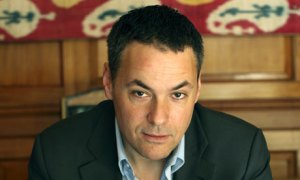 You wouldn't call him a chip off the old block, but Adam Guettel's musical genes are unmistakable. Yes, his grandfather was the great Richard Rodgers, and his mother was Mary Rodgers, who wrote Once Upon a Mattress. He works hard not to imitate either of them, but I say if you've got the genes, flaunt 'em. And that is exactly what the adventurous, spirited and always imaginative composer of The Light in the Piazza is doing all this week, for seven performances,  at 54 Below, New York's glitzy nightclub beneath the street where the notorious Studio 54 used to be. It's the most interesting mini-concert in town.
Actually, it's less a concert than a kind of kickstarter to raise awareness of this extraordinary young songwriter's talent and versatility. With strong chops that rise from burnished baritone to tremulous tenor when the occasion demands, Mr. Guettel is backed by four musicians finely tuned to his many shifts in mood and tempo, occasionally aided by his own guitar solos. He hasn't performed his own songs since 1999. He works slowly. His triumphant success with The Light in the Piazza was in 2005. So this is a rare opportunity to get a glimpse of what he's been doing in the past eight years, run through a career trajectory that spans  from youth to maturity, and catch up with an elusive musician who sings as well as he writes but keeps most of it private. He's so elusive that every time he writes something it's like the unveiling of a new discovery. Still handsome, clean-cut and preppy at 48, he's no longer a kid–but still looks like one. Chromatic and complex, his eclectic compositions are hard to analyze. You can hear influences of Ravel, Debussy and Laura Nyro. What you never hear is the same thing twice.
Beginning with "Echo Into Daybreak," which is literally a series of Swiss Alp yodels that work themselves into melodic lines, his show includes pop-flavored teen tunes he says his voice is not high enough to sing anymore, evergreens from early shows like Floyd Collins–the 1996 off-Broadway flop based on the true story of a man who died after being trapped in a cave for 17 days–gorgeous ballads from his Tony-winning score for The Light in the Piazza and a highly anticipated sneak preview from future projects. With the aid of two fiery, impassioned guest artists (Stephen Pasquale and soprano Whitney Bashor), you'll be the first to hear works-in-progress from four new musicals and an opera, including the close-to-completion adaptation of Danny Boyle's obscure film Millions, about a duffle bag of British pounds that falls on the playhouse of a motherless seven-year-old boy who sings to her through saints. He has only a week to spend it before it is converted to Euros and rendered useless. Taken out of context, the songs previewed in this show sound simplistic, atonal and hard to follow–kid stuff from his early period when Mr. Guettel was still working overtime to eschew any connection to his grandfather's hits from Carousel, Oklahoma! or South Pacific. I have higher hopes for another of the composer's fresh projects—a stage version of the harrowing film about alcoholism, The Days of Wine and Roses. In various interviews I've read, Mr. Guettel has spoken candidly of his troubled youth, including a once-serious problem with drugs. For some reason, he has never explored his talent for songs from the darker, more tragic edge of human experience. The Days of Wine and Roses is about addiction, and a stirring piece called "There Go I" is an intriguing promise of more dramatic things to come. I can't wait.
One thing all Adam Guettel songs have in common: they're tone poems, or delicately honed examples of musical Haiku. Some—like the three rapturously harmonic and musically sophisticated arias "Il Mondo," "Say It Somehow" and "Light in the Piazza" from the show of the same title—are more intensely romantic than others. Some lyrics are cleverer, other refrains are more commercial. But one of the keys to success and longevity in the musical theater is to experiment, be fearless and keep writing. Mr. Guettel's body of work is always full of surprises, risks and bold departures. I'm always asked where the next fertile songwriting talents are coming from with the musical savvy to bridge the gap between the classics of Kern, Porter, Berlin, Loesser, Lerner, Loewe, Lane, Rodgers, Hammerstein and Hart—and the popular familiarity of pop-rock.
The one to keep an eye on is Adam Guettel.
rreed@observer.com