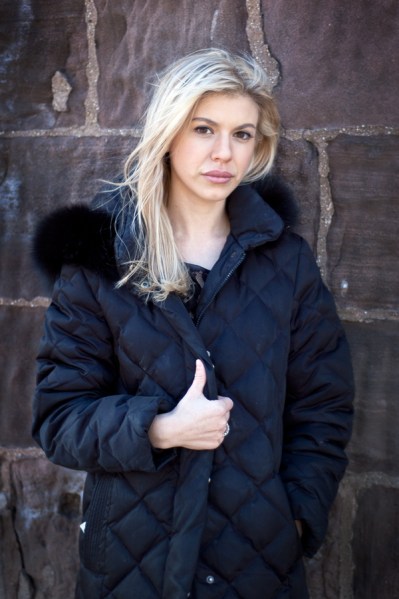 When former fashion star and convicted rapist Anand Jon pleaded guilty last week to one count of sexual assault, at least one of his victims let out a sigh of relief. Tara Kipnees, a 28-year-old aspiring fiction writer who alleges she was raped by Mr. Jon, is glad that she doesn't have to testify at his trial. "I'm relieved that I don't have to see him and face the catechism of cross-examination," she told The Observer.
In exchange for pleading guilty to one count of sexual assault, Mr. Jon had 48 other serious charges against him dropped by the Manhattan District Attorney's Office. Those charges included raping minors, drugging women and making death threats against them. With Mr. Jon already serving 59 years to life for a 2007 Los Angeles conviction on similar charges, his New York assault sentence amounts to time served.
Ms. Kipnees was a junior at Solomon Schechter Day School (now Golda Och Academy) in West Orange, N.J., when she met Mr. Jon. She had just returned from a summer studying at Oxford University, where she had befriended a group of teenagers from wealthy New York families. (While this newspaper's policy is not to name rape victims unless they so choose, Ms. Kipnees spoke openly about the events to The Observer and has done so elsewhere.)
The daughter of a podiatrist and a systems analyst for Deutsche Bank, Ms. Kipnees was new to the clubs, restaurants and galleries her crew frequented. Unlike her friends, whose parents worked in fashion, her parents were Jewish refugees from Communist Bulgaria who would never have permitted her to attend parties with booze and drugs. So she did what any teenager would. She began lying. "I lied about where I was going, who I was going with—all of it," she recalls. "They had no clue."
At a dinner party at an Upper East Side apartment one evening, she was introduced to Mr. Jon, a striking figure with long black hair, a toned physique and a chiseled face worthy of his industry. Born into a wealthy family in Kerala, India, he had moved to the United States to study fashion at a Florida school and, later, at the Parsons School of Design. He interned for Gianni Versace and released his first fashion line in 1999.
Young and naive, Ms. Kipnees was immediately taken by Mr. Jon. "He held my hand near a candle and asked if he could tell my fortune," she said. "He seemed very spiritual, someone who spoke with wisdom." It was a performance calculated to net Ms. Kipnees.
"I didn't think he was interested in me," she said. "He acted like the stereotypes of gay men, so I just assumed that he was gay."
The two started going together to clubs like Flow, Suite 16 and Bungalow 8. Mr. Jon invited her out multiple times a week, but Ms. Kipnees couldn't make it to the city more than once or twice a month, which disappointed him. "I didn't think our relationship was unique, but I got the feeling he did, as if he felt a connection to me that he didn't feel with other people," she said, "though I'm sure he implied that same connection to the many models he lured with promises of fame and success." Mr. Jon even invited his high-school-age friend on vacations, and when she declined, she said he guilt-tripped her, accusing her of being a poor friend. "I just thought he was being dramatic, and even pathetic at times, like a needy friend," she said.
Mr. Jon encouraged Ms. Kipnees to wear the clothes he designed out in public, complimenting her on her beauty. But she demurred—the clothes were too revealing. "Some were beautiful, but looking back, most had a vulgarity that overshadowed their elegance," she recalled. Instead, she would model for him privately in his apartment. "It felt like playing dress-up, and I thought as a designer and as a gay man, he appreciated the way I looked in things from a purely aesthetic standpoint."
She had no reason to think otherwise. "I thought we had a tacit agreement almost, where he would provide me and my friends with unfettered access to these new and exciting places, and I would wear his things for him." There was one occasion when Mr. Jon kissed Ms. Kipnees abruptly for a photograph. "I told him I was uncomfortable with what he did, and he said, 'That's what happens in the fashion world; it just looks good for the cameras,'" she said. She was satisfied with the explanation. "I put it behind me—I was naive and thought he was genuine."
After about eight months of friendship, Ms. Kipnees went over to Mr. Jon's apartment on the Upper East Side one evening. They were supposed to go out to a club. His mother was there, and clothes were strewn everywhere. After they ate dinner, Mr. Jon brought Ms. Kipnees to his bedroom to show her some new sketches and clothes.
Mr. Jon closed the door behind them. He told her he wanted to discuss their relationship status. She was taken aback—it was the first time she had considered his motives. Ms. Kipnees told him she was not interested, that they were good friends and she had thought he was gay. She was a virgin, she told him, and nothing was going to happen between them. "I have ways to make you do things," he replied. Ms. Kipnees was panicking—she couldn't hear Mr. Jon's mother in the other room any longer. "I have no idea where she went after dinner," Ms. Kipnees recalled. "All I know is she washed the dishes, and I didn't hear or see her after that."
She took off her clothes, hoping that him seeing her in her underwear would satiate him. It didn't. He began taking off his clothes and she screamed. Mr. Jon put his hand over Ms. Kipnees's mouth and told her to shut up—her screaming wouldn't help, he said. He told her he just wanted to give her a massage, but he raped her instead.
Once he finished, she told him she wanted to go to the bathroom but escaped instead. "I ran half-dressed out the door and down the stars," she said. She ran to Penn Station and took the train home. She thought her parents would blame her for lying and for putting herself in a dangerous situation. "I had been lying so much, and I was supposed to be better and smarter than this," she said. And so she didn't tell a soul.
Afterward, Mr. Jon tried to get in touch with Ms. Kipnees, but she cut off contact with the designer and their group of friends. "Even after the rape, when I stopped seeing him and cut myself off from that entire New York club scene and all the people involved in it, he continued to get in touch to try to see me."
Ms. Kipnees went to Tufts University a few weeks later and tried to put the attack behind her, though she suffered bouts of depression she didn't understand. A few years later, a friend who works as a fashion journalist called and asked if she'd seen the articles. In March 2007, Anand Jon was arrested in Beverly Hills for rape, sexual battery and lewd acts with a minor—15 felony and five misdemeanor counts involving seven women and girls in total. "My friend said to me, 'That's so crazy. You're so lucky, it could have been you,'" Ms. Kipnees recalled.
After Mr. Jon had assaulted her, he had gone on to become famous. He was named by Newsweek as one of the people to watch in 2007. He designed clothes for Paris Hilton, Bruce Springsteen and Mary J. Blige, was a judge on America's Next Top Model and was scheduled to star in a VH1 reality show. The week he was charged, he was scheduled to introduce a new collection. And yet he had a reputation as more of a celebrity-hunter than a genuine talent. "I can characterize his position as being a designer that no one in the fashion industry pays attention to," New York fashion stylist and photographer Phyllis Leibowitz told The Los Angeles Times at the time of his arrest. "He has a knack for getting his photo taken, and partying with influential people."
Though she lived in Boston, Ms. Kipnees called the Los Angeles District Attorney to say that the victims named in the charges were not alone. Ms. Kipnees was valuable to the prosecution precisely because had no connection to the fashion world. She had just been a 16-year-old who had wanted an in for her friends to some exciting places around town.
In the trial, Mr. Jon's defense claimed that his accusers were a harem of bitter aspiring models who were conspiring to attack a designer because he did not make them famous. (Various conspiracy theories are still alive in India, where newspapers continue to portray Mr. Jon as the victim. The former deputy chief of mission at the Indian Embassy in Washington told an Indian newspaper that Mr. Jon "was successful in his profession, so commercial rivalry could be one of the reasons" he was targeted by law enforcement.)
In November, 2008, Mr. Jon was convicted one count of rape and 15 counts of rape and sexual assault.
His lawyer, Kimberley Summers, told The Observer that her client "strongly maintains his innocence." Ms. Summers added that she "would have loved to put Tara in the stand" in New York, citing "inconsistencies between her California testimony and what she told the New York grand jury."
Meanwhile, Ms. Kipnees, who now lives in South Orange, N.J., with her husband and 16-month-old daughter, has created a website called Voices in Space, a forum where writers critique each other's work. A short story she has written tells of a rape at the hands of a fashion designer. It doesn't have a happy ending.
editorial@observer.com