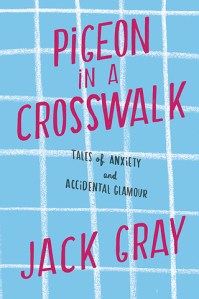 Jack Gray probably would never have written Pigeon in a Crosswalk, his first book, if not for his boss, Anderson Cooper. And he certainly wouldn't have gotten the publicity he has without the silver-haired anchor.
About five years ago, Mr. Gray, a 32-year-old producer for the CNN news program Anderson Cooper 360°, began writing blog posts for the show's website. They were light, first-person musings—nothing too serious—but Mr. Cooper, whom Mr. Gray calls a friend and a mentor, encouraged Mr. Gray to keep writing.
He did. Pigeon in a Crosswalk—a short collection of whimsical meditations, including some of the things Mr. Gray wrote in blog form—came out in hardcover last week, published by Simon & Schuster.
Mr. Cooper makes many cameos in the book, often as an object of playful mockery. "Some days I still can't believe where I ended up working," Mr. Gray, who started his career as a local news producer in Boston, writes early on. "To quote Anderson Cooper, 'Anderson Cooper is a big deal.'"
"He has a great sense of humor about himself," Mr. Gray told OTR. Indeed, the anchor has been the best publicist a first-time author could have.
For the past couple of weeks, Mr. Cooper has been using his social media following to gin up book sales. "For a fun read this weekend, get my friend @JackGrayCNN's new book Pigeon in a Crosswalk," Mr. Cooper tweeted to his almost four million followers. He included an Amazon link for clicking ease.
Mr. Cooper had Mr. Gray on his daytime talk show, Anderson Live, to chat about the book, and the two also did a more intimate off-the-cuff interview that was posted on the CNN website. This week, the veteran interviewer is scheduled to appear in a conversation with Mr. Gray at the Barnes & Noble on West 82nd Street and Broadway.
Mr. Cooper's approbation also stretches to a flattering blurb on the back of the book: "Jack Gray is deeply funny," he writes, "and his book reminds me of a young David Sedaris or Augusten Burroughs."
The literary comparisons are a stretch artistically, if not thematically. Mr. Gray is gay and he has suffered from depression, which he details in his essay collection. The award-winning news anchor, who is also openly gay, was there for the author during trying times. "When I started coming out to my family," Mr. Gray told OTR, "he was extremely supportive, because obviously I told him what I was going through and we had a long talk about it. He helped me in his capacity as a friend."
Mr. Gray, himself an Emmy Award winner, has more than one million followers on Twitter—not bad for a person who operates mostly behind the scenes. Could he be positioning himself to be an anchor or a host?
He didn't rule it out, noting that he would not try to compete with his boss, should the opportunity present itself. "I'm not opposed to doing on-air stuff," Mr. Gray said, "but I wouldn't fool myself into thinking I could do whatever Anderson does."