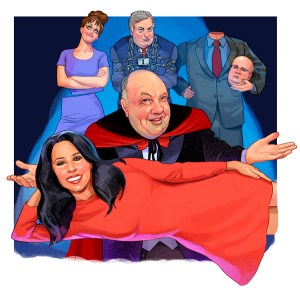 On weekday mornings, Andrea Tantaros sits in a small, cramped sound studio on the far West Side of Manhattan—the same studio where Bob Dylan and Madonna and Bruce Springsteen recorded hit records. Before she wraps up her three-hour talk-radio show, she makes sure to plug her afternoon gig as a co-host on The Five, Fox News Channel's evening roundtable program.
By the time Ms. Tantaros appears on that show, five hours later, she is virtually unrecognizable. Instead of a slouchy hat over her ponytail, a long-sleeve black T-shirt covered with a scarf and jeans tucked into flat black boots, Ms. Tantaros wears a brightly colored, tight-fitting dress, makeup and extra-high high heels. Her long brown hair is blow-dried and hair-sprayed into a face-framing mane. She's ready.
Ms. Tantaros has been one of the hosts of The Five since it launched almost two years ago. The show is billed as a rotating panel of seven contributors (five of whom appear each day at 5, hence the name of the program) who discuss current political issues and pop culture. Each of the co-hosts introduces a segment, and they all weigh in on the other topics while bantering and joking around with each other.
Ms. Tantaros, who recently turned 34, has been on the verge of stardom at Fox since she started full-time at the network in 2010. But since taking over Laura Ingraham's morning spot on Talk Radio Network this past January, she is no longer waiting in the wings. Ms. Tantaros has become the right wing's new "It" girl.
And although she is solidly conservative, she represents a departure from the old Fox News mold of firebrand yellers and bubbly blondes. Ms. Tantaros lives in Manhattan, talks with equal enthusiasm about reality shows and budget hearings, and is laughingly sarcastic rather than loudly belligerent when decrying a liberal viewpoint. And she will occasionally depart from the party line. She is, in short, the perfect standard-bearer for Fox's recent subtle shift to a less-divisive model of conservative news.
"Andrea has it all—smart, good-looking, well-informed, great sense of humor, fun to be around," gushed Sean Hannity, the right-wing rock star and fellow radio host/Fox personality, whose approbation name-checks a critical box. "She's always stood out as a rising, bright, young smart conservative star."
Ms. Tantaros started on the other side of the equation—talking for campaigns, rather than about them. After majoring in journalism and French at Lehigh University, she headed to D.C. She interned in the press office of Pat Buchanan during the 1999 primary, and then briefly interned at Crossfire before working in the press offices of the campaigns of former Massachusetts Gov. Bill Weld, Jeanine Pirro and Thomas Reynolds. Ms. Tantaros eventually became the deputy press secretary for Pennsylvania's Pat Toomey, then a Congressman, now a Senator.
In 2007, a friend from Fox News asked Ms. Tantaros to appear on the air. One guest spot led to another, and by 2010 she had signed a contract.
"It was liberating, I think, to not have to speak for somebody else, because it was always in their voice," Ms. Tantaros said, noting that once in a while she disagreed with the positions of her candidates, who ran a narrow gamut from moderate Republican to very conservative Republican. "So I promised myself that, when I was speaking for myself and not somebody else, that I would be completely unbridled by talking points or any party, and that's what I try and do. I try and not be predictable; it's just whatever I think."
Occasionally, Ms. Tantaros's "unbridled" talking points get her into trouble. Last November, when commenting on Newark Mayor Cory Booker's food stamp challenge, in which the mayor pledged to live for a week on the $4-per-day food budget that a single recipient receives, Ms. Tantaros joked about it sounding like a good diet plan. This didn't go over well.