For the most part, Ms. Tantaros has managed to walk the line between being outspoken and being offensive. She exemplifies the new, less controversial brand of Fox News anchor that the network—and the Republican Party—has begun to lean on.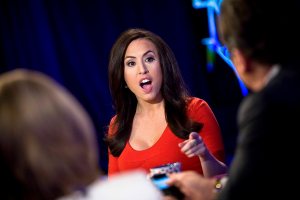 "In the modern debate format, she's a consistently passionate but pragmatic voice. So her arguments come across as extremely reasonable and are very good for people to be able to listen to even if they don't agree with her," said Tony Sayegh, a Republican consultant who worked with Ms. Tantaros on Jeanine Pirro's disastrous run for the U.S. Senate. "She is able to do what my old boss Jack Kemp used to always say the Republican Party had to do, which is to speak about our conservative principles, but in an optimistic and positive way to attract those who may not already be on our side."
Part of this ability to take a more compassionate approach comes from the format of The Five—and its demographics.
Fox News tends to skew older than other cable news networks, but The Five performs well with the valuable 25-to-54-year-old demographic compared with other shows on Fox (even if the majority of its total audience is still over 55). The show averages two million viewers, which is also solid for the network.
The network divides its programming between straight news and opinion, and The Five offers plenty of the latter. During a recent segment, the hosts debated the Super Bowl ads, whether women should have access to guns and whether a teacher should be fired after posting photos of herself on Facebook that showed her in sexy poses, smoking pot and drinking beer. The consensus among the co-hosts was that the teacher should be fired, but for bad social-media judgment rather than for imbibing illegal substances.
"I think I've said I don't see what's wrong with decriminalizing small amounts of marijuana. So some of our positions will surprise you," Ms. Tantaros explained. "We're a little bit of a younger demographic, so I think there's a more open attitude toward equality and gay rights and that type of thing."
This softer stance fits in with more general changes at Fox News, widely considered to be part of a larger effort to combat a ratings dip and a credibility problem following the election. Network President Roger Ailes, the Oz behind the most successful news channel on cable, quickly set about righting the ship, and underlining that "Fox News" and "the Republican Party" are not synonymous is part of that effort.
Last week, the network fired pollster Dick Morris, who comically predicted "a landslide for Romney approaching the magnitude of Obama's against McCain." Sarah Palin and Fox News parted ways after the onetime vice presidential candidate's contract expired last month. Karl Rove, despite getting his contract renewed for the duration of Obama's second term, has been somewhat defanged after he disappeared for a month following his failure to concede the election results, challenging the Fox analysts who called Ohio for the president in a strange on-air internecine tiff. Meanwhile, the network recently inked a multiyear contract with liberal oddball Dennis Kucinich.
"There is certainly a debate within the Republican party following the recent presidential election on how to interpret what happened," said Joshua D. Clinton, a political science professor at Vanderbilt who has studied Fox News and the network's impact on political viewpoints. "There was a situation where the incumbent president seemed relatively weak and the economy was not doing well, but nonetheless they did not do as well as they would have hoped."
All of these changes, together with the emergence of Ms. Tantaros, suggest a network shifting to retain credibility at the same time as the Republican Party struggles to reinvent itself.
"I think we see that in the rise of Marco Rubio, Bobby Jindal and Jeb Bush, advocating for this kind of compassionate conservatism," Mr. Sayegh said. "It really puts people at the center of our policy and explains to people why the conservative ideology is right for them. And I think Andrea is doing it as effectively if not more than anyone on the national stage."