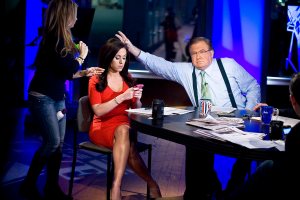 It doesn't hurt that, like Marco Rubio, Ms. Tantaros has the kind of immigrant success story that candidates on both sides of the aisle tend to love.
The way that Ms. Tantaros tells the story, her father left Greece after he saw the direction in which his native country was headed. Mr. Tantaros came to America, where he slept in a cardboard box in the boiler room of a diner in New Jersey owned by an uncle-type figure. While he was working in the restaurant, he met an attractive Syracuse coed home for spring break. She didn't return to college. Instead, Ms. Tantaros's parents got married and opened their own diner while living in a $12-a-night motel room. Mr. Tantaros cooked; Mrs. Tantaros waited tables until she became pregnant and switched to washing dishes. When the kids were old enough, they were put to work at the diner.
"I just love that background," Mr. Hannity said. "Whenever you see the American dream unfold for good people, it's a pleasure."
The endorsement of established Fox News names like Sean Hannity doesn't go unnoticed—or unremarked upon—by Ms. Tantaros.
When we went to a taping of The Five last month, Ms. Tantaros used the final seconds of airtime to thank Mr. Hannity for calling in to her radio show earlier that day to give his stamp of approval to the new host.
Ms. Tantaros lives on the historically liberal Upper West Side, near her lawyer boyfriend of a year (they don't live together, though they spend a lot of time at each other's places).
"Nobody really rolls their eyes or sniffs at me, unless I wear my 'Guns Save Lives' T-shirt to the Reebok Sports Club," she said, when we asked her about living in one of the more left-leaning districts in the city. "It's funny, all the screens are MSNBC or CNN, and then I have the one screen with Fox on while I'm working out."
But Ms. Tantaros added that when people do come up to her, she is surprised by how many New Yorkers turn out to be fans.
"So many people tweet me, and they're like 'I watch you and I don't really agree with you, but I agree with you on this issue,'" she said. "Or 'I typically don't watch Fox, but I watch The Five.' So it's been really cool to see that take off."
If Ms. Tantaros's rise can restore credibility to Fox News, it may just end up mirroring the Republican Party's efforts to appeal to right-center moderates.
"In my opinion, Andrea isn't just a future star at Fox, which obviously is a great place for someone in the TV business to be a star," Mr. Sayegh said. "But I would even argue that she is going to be a more prominent voice for the entire conservative party in America."
But of course, at the end of the day, Fox News just wants to attract an audience, which may mean that new faces like Andrea Tantaros are only the beginning.