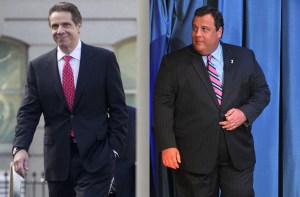 Governor Andrew Cuomo and Chris Christie, his Republican counterpart in New Jersey, are willing to admit they have at least one thing in common: strong, Sicilian mothers. Mr. Christie pointed out this fact earlier this week while denying reports he privately discussed agreeing with Mr. Cuomo on a wide variety of issues. Today, Mr. Cuomo responded during a budget-related press conference where he playfully hinted at the unusually "powerful" influence Sicilian mothers have on their children.
"I understood that the governor said we both have Sicilian mothers, which is true," Mr. Cuomo said when asked about Mr. Christie's comments. "They can be a strong force on development–I don't know on political philosophy–but on personal development, the Sicilian mother is a very powerful force."
The pair of governors' quest to find common ground began when a man who met Mr. Christie gave an interview in which he claimed the Garden State politician had said he is "not much different from Andrew Cuomo" and, "I probably agree with him on 98 percent of the issues." Mr. Christie denied the report saying that he actually simply acknowledged he and Mr. Cuomo came from a similar, Sicilian background.
"What I said was that Governor Cuomo and I were raised in very much the same kind of households. Governor Cuomo was raised by a Sicilian mother and so was I," Mr. Christie explained. "And so that a lot of our values are the same. I don't ever remember saying anything like I agree with him 98 percent of the time because I don't. So I'm sure I didn't say that."