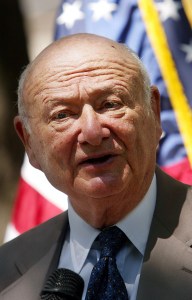 Former Mayor Ed Koch and Governor Andrew Cuomo have a long and colorful history, stretching all the way back to Mr. Koch's initial mayoral election against Mario Cuomo, the current governor's father, in a hotly-contested, occasionally bitter 1977 race that Mr. Koch ultimately won. Although Mr. Koch continued to tweak the younger Cuomo for years after–calling him a "schmuck" in his latest documentary, for example–the two became political allies on a number of issues during Mr. Cuomo's political career and governorship. Earlier today, Mr. Cuomo described his final words with the late Mr. Koch and the inspiration he received from them.
"I talked to the mayor two days ago. He's in the hospital. …. I said to him, 'Mister Mayor, how are you feeling?' [He replied,] 'Stronger every day. Stronger every day.'" Mr. Cuomo recalled in a radio interview with New York Post columnist Fred Dicker. "To me, that's the essence of Ed Koch. Stronger every day. Tomorrow's going to be better. Optimism. Look forward. Don't look back. You think the situation is bleak? Nah, we're going to conquer. We're going to win. We're going to be better. Stronger every day. Now, he had to know where he was, right? 'Stronger every day.' How beautiful is that?"
Despite his serious health condition, Mr. Cuomo said Mr. Koch was more interested in the policy details of New York State's recently-enacted gun control bill and ending Washington gridlock so something similar can be done federally.
"He–you're not going to like to hear this–but he was all excited about the gun bill," Mr. Cuomo explained, teasing Mr. Dicker over his constant criticism of the legislation. "New York did it and he was talking about Washington and the confusion and the controversy in Washington about it. New York had made progress again. He was supportive of me in my race and he was very excited about that."
Mr. Cuomo also reflected on that 1977 race that pitted him so sharply against Mr. Koch, describing the political talents of his father and Mr. Koch as "just beautiful to watch."
"I really first encountered Ed Koch in the 1977 mayoral," Mr. Cuomo remembered. "I was a kid, I was about 19 years old. At that time you had Ed Koch and Mario Cuomo, and they were like the Muhammad Ali and Joe Frazier of our time. They were both extraordinary talents, different styles, different personalities, different people, but  really they were just beautiful to watch. They were both a high point of the profession. … Ed Koch was more gregarious, more outgoing and he [was] delighted in being a character. He was great for New York City. He was a New York City, ethnic, bigger-than life character. … He was extraordinary and he did it for a long, long time."
The governor, who's known for his forceful management style, labeled Mr. Koch as a "case study" for him as he eventually pursued his own career in elected office.
"Ed Koch won the 1977 mayoral obviously. And he was a very instructive case study to me. He loved government, was aggressive about what government could do," Mr. Cuomo said. "He was very activist in making the government operate. We talk about performance, he was about performance. He was about integrity, attracting the best and the brightest. He made government fun and cool again. People loved to be in the city government with him and there was an energy and a buzz about being in city government and you were fighting the good fight. He used the government very well."