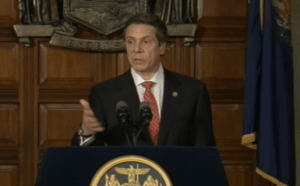 Environmental advocates just rolled out a full-page ad that will debut tomorrow taking Governor Andrew Cuomo to task over New York's stance on the controversial natural gas drilling procedure known as "fracking." However, the ad isn't appearing in New York. Instead, it's taking up a page in Iowa's largest newspaper, the Des Moines Register, making it a seemingly obvious attempt to throw an early roadblock at Mr. Cuomo's widely-expected presidential campaign in that state's traditional "first in the nation" primary election.
"Governor Cuomo, America is looking to you," the ad says. "Don't allow a single fracked shale gas well in New York. This is your chance to be a national leader on climate. Your choice now will be remembered forever."
Asked about the ad in a press conference touting the confirmation of his latest judicial nominee, Mr. Cuomo dismissed the possibility of Iowa being a concern to him.
"I'm not going to read it Ken, because I'm not going to be in Des Moines," Mr. Cuomo told Daily News reporter Ken Lovett, who asked about the ad.
In an obvious allusion to Mr. Cuomo's rumored presidential aspirations, Mr. Lovett pressed him and asked whether he plans to visit the state at any point in the next few years.
"Nope!" the governor exclaimed with a smile. "Nope!"
The state Department of Environmental Conversation is set to issue regulations on fracking, which is common shorthand for hydraulic fracturing, by February 27.  Mr. Cuomo has argued that those regulations will be based on scientific evidence and not, as he phrased it today, which side can "scream the loudest."
"You have difficult issues–controversial issues–with strong opinions on both sides. Guns is a perfect example of it," he said. "Fracking is the same type of issue. You've heard it on both sides. There are strong supporters, there are strong opponents. A lot of emotion on both sides. What we've said all along is, 'I don't the decisions based on … the emotions and who can scream the loudest or who can organize the loudest.' Let's make it on the merits and let's make it on the facts and let's make it on the science."