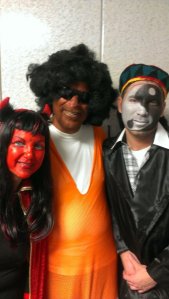 Assemblyman Dov Hikind held a press conference in front of his home this afternoon responding to the uproar over a story that first appeared on Politicker today about his "black basketball player" Purim costume. In front of a small crowd of reporters, Mr. Hikind apologized that people were "offended" and reiterated his initial defense that the getup, which consisted of an orange jersey, brown face paint, an afro wig and sunglasses was merely a costume to celebrate the Jewish Purim holiday. However, even after Mr. Hikind addressed the firestorm, several members of the City Council sent letters to the Assemblyman arguing his apology did not go far enough.
"Anyone who was offended by the outfit that I was wearing on Purim yesterday … it was not meant to offend anyone or hurt anyone in any fashion," Mr. Hikind began. "That is not what I am all about for the past 31 years in pub office and before that."
Mr. Hikind went on to describe how "hundreds and hundreds of people" came to his home during the fourteen hour party for which he donned the costume yesterday. He said "the whole idea" of the costume was "not to be recognizable."
"Anyone who was offended, I'm sorry that they were offended. That was not the intention and that's really all I can say," continued Mr. Hikind. "I just have to reiterate, it was Purim. Purim is when people get dressed up and try to look different."
The Assemblyman also assured the crowd of reporters gathered in front of his home that his costume "was never about a racial thing."
"If I was black, I might have asked the makeup person who I hire every single year and said, 'Make me look white this year. I want to look differently, I just dont want people to recognize me,'" said Mr. Hikind, referencing his tradition of hiring a makeup artist to help him prepare for the Purim festivites. "It wasn't about white, it wasn't about black, it wasn't about anything like that. So, you know, in hindsight seeing that all of you guys are out here today and this has become a real story, my God, you know I would have picked something else."
Mr. Hikind also discussed rethinking his future Purim costume choices with the New York Times.
"Next year I was thinking I'd be an Indian," Mr. Hikind said. "But you know, I've changed my mind about that. I don't think that's a good idea. Somebody will be offended."
Mr. Hikind's apologies clearly did not satisfy the members of the City Council's Black Latino and Asian Caucus. After the press conference, Councilmen Robert Jackson and Fernando Cabrera, the co-chairs of the 27 member Caucus sent a letter to Mr. Hikind on behalf of the group asking him to make a "true and real public apology" and meet with community leaders.
"We write, as the Black, Latino & Asian Caucus of the New York City Council, to directlyaddress the incident involving your donning of blackface at a party, and your sentimentssuggesting that no offense should be taken," the letter said. "We find it deeply disturbing that, not only didyou make the conscious decision to wear the offensive costume, but your commentsfollowing the media blowback suggest that you have no consideration for the history of  blackface and the trivialization of the black experience in this country."
Councilman Jumaane Williams, who is a member of the BLA Caucus, went a step further and sent another letter to Mr. Hikind co-signed by seven other Council members and Karim Camara, chairman of the minority caucus in the State Assembly. That letter also called for Mr. Hikind to make a "sincere public apology" and meet with community leaders.
"Your costume is offensive to a significant segment of this borough for its connection to the sordid history of blackface in American theater. People associate blackface with offensive African-American stereotypes popularized in minstrel shows and vaudeville, stereotypes such as laziness, stupidity and cowardice. In fact, this same art form negatively depicted other communities, including the bigoted portrayal of Jews as corrupt and conniving," the letter said. Not only have you appeared publicly in blackface, you have offered an initially fierce defense of your actions, declaring on your blog that 'this is political correctness to the absurd.' This is a disconcerting response, especially when we consider that on multiple occasions you have come out to loudly defend the Jewish community against real and perceived indignities."