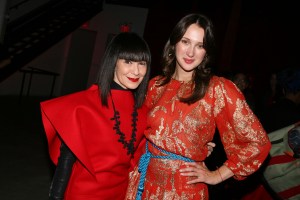 This morning The Wall Street Journal reported that the art start-up Artspace has raised $8.5 million in new funding, and has signed on the 27-year-old Russian heiress and art patron Maria Baibakova to help the company expand overseas.
The funding is significant. According to Crunchbase, before this new funding, Artspace had raised $3.7 million, bringing their new grand total to $12.2 million. This puts it ahead of Artsy, the perceived leader in this space, which, though prominently supported by Dasha Zhukova, has raised only $7.25 million. And now Artspace even has its own Russian brand ambassador!
From The Journal:
The $8.5 million infusion of capital, a Series B raise led by the venture capital firm Canaan Partners, underscores the continuing growth of online art sales. Over the past few years, collectors have encountered a host of new opportunities to acquire work online, including the web-only VIP Art fair; online portals to brick-and-mortar art fairs; and the evolution of online sales and auction platforms such as Artsy, Artspace and Paddle8.
Some of that money will be going to a cause near and dear to the writers of this site: the company has also told us that they've hired the artist and writer Walter Robinson to be a bi-monthly columnist. For 16 years Mr. Robinson served as the editor of Artnet magazine (disclosure: its parent company is a major GalleristNY advertiser), which shuttered its online magazine last summer. He has been without an outlet, besides Twitter, since then.
Mr. Robinson's new column will "take on issues in the art world, filtered through his perspective as a market veteran and artist." The first, which just went live, is titled "Confessions of an Art Collector," and examines his own modest collection.
Shortly after the news broke, Artspace Editor in Chief Andrew Goldstein posted an interview with Ms. Baibakova here.
Updated at 2:30 p.m. to link to the first column.