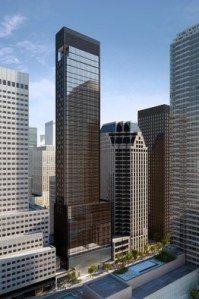 The sales office for 20 West 53rd Street, Starwood Capital's Baccarat-branded hotel and condo tower isn't having its grand opening until next week, but the fancy glass maker turned hotelier has already settled on a price for its crown jewel. The dark crystal's penthouse unit is asking $60 million, according to BuzzBuzzHome, which got its hands on the asking price.
A call to the sales office didn't yield any additional details, but they did confirm the pricing of the top-floor penthouse, or "the pinnacle," as Baccarat puts it. For $60 million, the buyer will get a duplex with 7,381 square feet of interior floor space, plus a 417-square foot balcony, according to BuzzBuzzHome. The unit has five bedrooms and 5.5 baths (the master with a floating sculptural tub). No word on whether or not chandeliers will be included.
The sleek, black SOM-designed tower will rise to 46 stories and contain just 61 condominiums. The latest offering plan, filed on Thursday with the Attorney General's office, puts the building's total price—that is, the combined total asking price of all of its residential units, but not the hotel rooms (151 at latest count, up from 115 last year)—at a hair above $523 million. The cheapest condo listed so far with BuzzBuzzHome is a 932-square foot one-bedroom unit on the 23rd floor, asking just $2.26 million. Residences will begin at the 18th floor, according to the building's website, and will have ceilings of up to 14 feet.
The building's design details should be commensurate with its Baccarat Hotel and Resorts brand ("We're going to marry Louis XV with the modern era," Barry Sternlicht, Starwood Capital's CEO and chairman of Baccarat, told the Wall Street Journal), but prices will likely pale in comparison to those across the street at Hines' Tower Verre. The Jean Nouvel-designed spire will rise to 1,050 feet, shy of its initial height of 1,250 feet before it was clipped by the city's chief planner, Amanda Burden.
We'll wait for more renderings before deciding if the crystal company has succeeded in crafting a space that convinces residents that "life is for living" or sees to it that their "moments become sealed in memory."