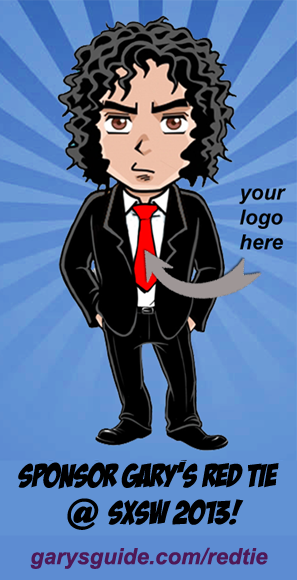 This is a guest post from Gary Sharma (aka "The Guy with the Red Tie"), founder and CEO of GarysGuide and proud owner of a whole bunch of black suits, white shirts and, at last count, over 40 red ties. You can reach him at gary [at] garysguide.com.
First things first: Stop reading this and go watch "House of Cards" on Netflix. Yup, it's that good. You're welcome!
Back? Okay! Hope y'all survived the weekend #snow-pocalypse (a.k.a. Nemo) and had a blast sledding in the park, hurling snowballs at each other and making elaborate snow sculptures. Here's an awesome Vine mashup of the storm that my friends Kelsey and Steve made.
Now that you've had your winter fun, it's time to get ready for spring. And that can only mean one thing: internships! That's right. It's that time of the year again, when bright-eyed young kids will be running around your offices eager to learn the ropes, change the world, and…err… get you your early-morning fix of decaf-grande-mocha-soy lattes.  So, who's looking for interns? Everybody, that's who! Squarespace, Metamorphic Ventures, UrbanDaddy, HowAboutWe, ff Ventures, MoviePass, Birchbox, Artsicle, Learnvest and many, many more.
Want $40,000, four months of free office space and access to Esther Dyson, Jeff Stewart, David Pakman and John Frankel? Well, duh. You, my friend, need to apply to the awesome ERA Accelerator, pronto! Deadline is March 7.
Speaking of accelerators, DreamIt is holding a meet-and-greet event next Wednesday, where you'll get to meet some of their partners, alumni and heavy hitters. In more accelerator news, west coast pirate Dave McClure and his merry band of 500 Startuppers will be coming ashore this Friday to give us all a little taste of what they've been building at their Demo Day. And in still more accelerator news, The New York Times Company  is launching timeSpace, a new incubator initiative to bring entrepreneurs to their HQ for four months to refine and grow their businesses. They're looking for three to five early-stage companies focused on the media space with a product launched. Deadline is February 19.
Applications to the 2013 TechCrunch NYC Disrupt Startup Battlefield are open. Deadline is February 22. TechCrunch is also holding a pitch-off competition + meetup tomorrow.
Congrats to the Drobe team for winning the Hearst Fashion Hackathon yesterday!
Don't forget, if you wanna help the city reinvent the payphone, submit your prototype idea by February 18. And if you wanna hang with Zac Posen 'n Dennis Crowley at Mercedes Benz Fashion Week, I have an extra pass. Email me if interested.
AIPAC Technology Division is having its launch event on February 27 at Bloomberg HQ, featuring Dan Senor (co-author of Start-Up Nation: Story of Israel's Economic Miracle). AIPAC Tech's host committee includes Alan Patricof (Greycroft), Avi Fogel (NY Angels), Jordan Levy (SoftBank) and others.
Startup Bus (where you get on a bus with 30 strangers and hack your way across America) is going to SXSW. Here's your invite code. Got questions? Email Jon Gottfried, your StartupBus East Coast Conductor!
As you all know, red is my favorite color (gasp, surprise). And lately it's been everywhere, from the red carpet at the Grammys last night to the red roses many of you are getting on Valentine's Day and, of course, red is the color for Chinese New Year. To all my friends who celebrate, Gong Xi Fa Cai! (and hope you get lots of Red envelopes ;-))
And now let's see what's going down in the Alley this week…
On Deck Sports and Technology Conference
With rockstar list of speakers including Bob Bowman (MLB Advanced Media), Tiki Barber (former NFL), Alexis Ohanian (cofounder, Reddit), Ben Lerer (Lerer Ventures), Ryan Spoon (ESPN Digital Media) and others.
Tuesday (Feb. 12), 8 a.m. @ Bohemian National Hall, 321 E. 73rd Street
Cocktails & Conversation
85 Broads invites you for cocktails and conversation with Joanne Wilson (angel investor) & Rohini Dey (restaurateur).
Tuesday (Feb. 12), 6 p.m. @ Vermilion, 480 Lexington Avenue
TechCrunch NYC Meetup
60-second pitch-off competition for entrepreneurs looking to launch their product at the Disrupt conference in May. Plus there's beer. Enough said.
Tuesday (Feb. 12), 6 p.m. @ Santos Party House, 96 Lafayette Street
NY Enterprise Technology Meetup
Demos by Aerohive Networks, DataSift, MapR Technologies, Datadog and Videolicious.
Tuesday (Feb. 12), 6:30 p.m. @ Cooley, 1114 Avenue of the Americas
Startup Weekend Strategic Partnership Series
With Nancy Jo (VP Strategy & Biz Dev, Bravo Digital Media), Leora Schacter (VP Digital Strategy and Planning, Food Network) and Ryan Osbourne (VP Digital Innovations, NBC News).
Tuesday (Feb. 12), 7 p.m. @ General Assembly East, 902 Broadway, 4th Fl.
Digital Disruption: Media in Non-Profits
With William Baker (President Emeritus WNET / Channel 13 PBS), Don Undeen (Media Lab, Metropolitan Museum of Art) and Suzy Gooch (Director, Metropolitan Opera).
Wednesday (Feb. 13), 6 p.m. @ McMahon Hall, 155 W. 60th Street, #109
NYC Real Estate Technology Startups Demos
With Efrem Weiss (PivotDesk), Oisin Hanrahan (Handybook) and Nate Friedman (Living There).
Wednesday (Feb 13), 6:30 p.m. @ TechStars NYC, 36 Cooper Square, 6th Fl.
Visas for Startups: A Panel on Immigration Policy and Entrepreneurship
With Jeremy Robbins (Director, Office of NYC Mayor Michael Bloomberg), Michael Wildes (Wildes & Weinberg), Owen Davis (NYC Seed), Cyrus Mehta and moderated by Professor Jonathan Askin (Brooklyn Law).
Wednesday (Feb. 13), 7 p.m. @ Geraldo's Cafe at Brooklyn Law, 205 State St, 1st Fl., Feil Hall, Brooklyn
One Of A Kind Party
Open Bar / Clothes Donation by StartupThreads, Amicus, AlleyNYC & Coalition for Queens.
Wednesday (Feb. 13), 8 p.m. @ 1Oak, 453 W. 17th Street
Decoded Fashion – Mercedes-Benz Fashion Week
Keynotes by Zac Posen (fashion designer) and Dennis Crowley (Founder & CEO, Foursquare), as well as the fashion hackathon finale. The top three ideas will be presented on the runway and the winning app will be launched by the Council of Fashion Designers of America.
Thursday (Feb. 14), 9 a.m. @ Lincoln Center, 33 W. 60th Street
Columbia Business School 19th Annual PE/VC Conference
Keynote by Steve Case (chairman & CEO, Revolution and cofounder, America Online)
Friday (Feb. 15), 9 a.m. @ Alfred Lerner Hall at Columbia University, 2920 Broadway
HackInteractive
An education-themed, code-for-a-cause hackathon. Amazing prizes, access to awesome APIs, and delicious food. Hack the weekend to benefit CampInteractive's programming. Hosted by Reddit founder Alexis Ohanian.
Saturday (Feb. 16), 9 a.m. @ General Assembly, 902 Broadway, 4th Fl.
More events on the horizon…
Social Media Week NY 2013 on Feb. 18 @ Metropolitan Pavilion
NY Tech for Local Business Meetups Social Media Week event: SoLoCo on Feb. 18 @ Wix Lounge
NYTECH Presents: Killer Strategies from the Worlds Greatest Innovators on Feb. 19 @ Morgan Stanley
Business Design & Tech Transforming The World on Feb. 19 @ Centre For Social Innovation Pop-Up Space
Funding the Best in Global Innovation II on Feb. 20 @ SNR Denton
Get To Know DreamIt – NYC on Feb 20. @ Bulls Head Tavern
NJ Tech Meetup 33 on Feb. 21 @ Howe Center
Unleash the Beast: How to Hack a Hackathon Save the World and Make Your Parents Proud on Feb. 21 @ Internet Media Labs
Fireside Chat with Kickstarter Cofounder Charles Adler on Feb. 21 @ Meetup HQ
Analytics Roundtable on Feb. 26 @ SNR Denton
AIPAC Technology Division: Launch Event w/ Dan Senor on Feb. 27 @ Bloomberg Tower
2nd Annual NYU Entrepreneurs Festival on Mar. 1 @ Tisch Hall
NYC EDU Startup Weekend on Mar. 1 @ Alley NYC
Until next week. Stay thirsty social, my friends! 😉