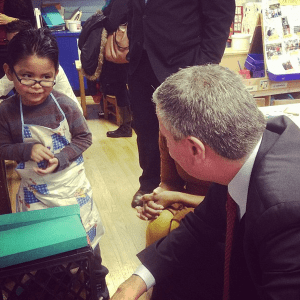 Public Advocate Bill de Blasio has stepped up his criticism of Council Speaker Christine Quinn, one of his all-but-officially announced rivals in the mayor's race. Following Ms. Quinn's policy-laden State of the City address earlier today, Mr. de Blasio blasted out one of his most aggressive statements to date against her policies.
"Strengthening and expanding the middle class requires more than lofty words and playing an assigned role in the annual kabuki theater that our city budget process has become," Mr. de Blasio said. "From paid sick leave to early childhood and after-school program expansion to small business advocacy, Speaker Quinn has partnered with Mayor Bloomberg in blocking programs that would make a real difference to the lives of working families. If the next four years at City Hall are simply a continuation of the last 12, we will have failed millions of forgotten New Yorkers who deserve a mayor who speaks for them."
Mr. de Blasio emphasized his point by hosting an event right before Ms. Quinn's big address where he touted his plan to increase taxes on the wealthy to pay for universal early education. He also took his rebuttal of her speech to Twitter where, after Ms. Quinn finished speaking, he posted photo of a child at his event and asked, "Why do Bloomberg, Quinn & others think lower taxes 4 millionaires is more important than early ed 4 kids like Oscar?"
Not everyone was as critical of Ms. Quinn, however. Stu Appelbaum, the president of the city's retail workers union who enthusiastically endorsed Ms. Quinn two weeks ago, fired off a statement praising Ms. Quinn's vision and leadership.
"Today Chris Quinn made it clear that she will be a strong progressive mayor for working people. She recognizes that the biggest challenge our city faces is the growing number of low-wage New Yorkers struggling to survive," Mr. Appelbaum said. "Her speech showed she is prepared to address that challenge and build on her living wage leadership. … The affordability crisis Quinn highlighted in her speech is the result of low-wage job growth: too many working New Yorkers do not earn enough to keep up with rising costs of living. Her plan will enable the dream of middle-class security to become a reality for the most economically vulnerable New Yorkers. This is exactly the plan our next mayor should implement on day one."
This post will be updated if any of Ms. Quinn's other rivals decide to weigh in on the speech too. Thus far, they have not.
Update (3:49 p.m.): Republican mayoral candidate George McDonald was also less-than-excited for Ms. Quinn's policy proposals.
"Today's State of the City address was a slick, high quality production with a so-called middle class theme that on the surface, all New Yorkers can agree on," he said in a statement. "Unfortunately, when you peel back the glitz and the happy rhetoric, the proposals can be summed up by the following: spending, spending, spending – borrowing – more spending and Mayor Koch."