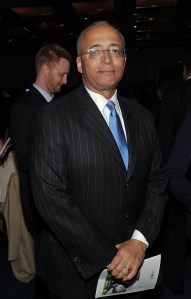 While all-but-officially announced mayoral candidate John Liu aggressively slammed Mayor Michael Bloomberg's State of the City speech as revisionist history, one of Mr. Liu's likely rivals in the mayor's race, Bill Thompson, took a more moderate approach. Mr. Thompson released a statement earlier this afternoon that praised parts of the speech while critiquing others.
"I commend the mayor's willingness to put forth specific ideas for our city's future, including his Styrofoam initiative, and urge fellow leaders to engage in a vigorous and respectful debate on this important matter," Mr. Thomspon began.
Though he commended the mayor's proposed styrofoam ban, Mr. Thompson quibbled with Mr. Bloomberg's staunch defense of the New York City Housing Authority, notably where he lamented the lack of federal resources and said "some people in elected office and in the press have taken cheap shots at NYCHA in recent months. But none of them have offered a plan to fix the revenue problem."
Mr. Thompson, who's sharply criticized NYCHA in the past, is likely among those Mr. Bloomberg considers to have taken "cheap shots" at the agency and he didn't back down from his criticisms following the speech.
"One issue that strikes me as disturbing, however, is Mayor Bloomberg's move to double-down on NYCHA and the Housing Authority's failed policies," continued Mr. Thompson. "Instead of shifting the blame for NYCHA's failures and attacking those who question the Authority, the Mayor should join us in addressing why NYCHA has not been able to deliver on its mission: to create and maintain affordable housing for New Yorkers. This obfuscation is precisely why I have proposed an overhaul of NYCHA's governing structure so the mayor – any mayor – will be accountable on housing policy."