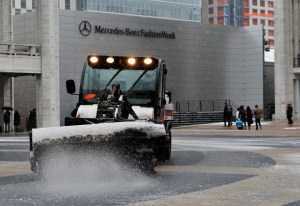 As Winter Storm Nemo descends upon New York City, Mayor Michael Bloomberg is urging residents of the five boroughs to "take it easy" and stay indoors tonight. At a press conference on the city's storm plans this afternoon he even shared some suggested activities for those who are snowed in.
"Tonight, what's a good idea? Cook a meal. Stay home. Read a good book. Just take it easy," Mr. Bloomberg said. "Remember there are a lot of people who are going to be out there shoveling the snow. … You just don't want to get in their way."
Mr. Bloomberg also revealed his own plans for weathering the storm. 
First off, he hinted his dinner plans might be dictated by his girlfriend Diana Taylor, or as he referred to her, "the powers that be."
"I will be home tonight, you can [be] rest-assured," the mayor said. "Will I cook or get something from the Greek diner around the corner? I haven't thought about that yet. I have got to talk to the powers at be to see what we're going to do for dinner. I happen be lucky and live in a neighborhood [where] within a block there's four or five restaurants. I'm either going to do that or eat something at home."
After eating, Mr. Bloomberg expects to get some exercise and much-needed rest.
"And I plan to catch up on my sleep," he said. "The next thing I'm going to do is also run on the running machine."