Who is Peter Fend?
"The Buckminster Fuller of the New Wave," art critic Alan Jones suggested in an article 20 years ago.
"The Lawrence of Arabia of the art world," Mr. Fend's old collaborator, the artist Richard Prince, opined in the same article.
"He's really Tristram Shandy," Maxwell Graham, his art dealer, told The Observer.
Last week Mr. Fend wrote an email to The Observer. "Here is what I would like to discuss," he said. "How to translate art exhibition into material-culture and territorial proposition. From image to plan. I believe this was intended in cave art. They were showing how to throw a spear, or how to kill the buffalo, with intention of getting that job done."
He'd written to tell us about a new work that he was preparing for the prestigious Annual exhibition at White Columns (a space he helped name), which was organized this year by Richard Birkett, a curator at the nonprofit gallery Artists Space. He hadn't finished the work by the Jan. 10 opening but planned to deliver it soon.
We made plans to meet in the makeshift studio that he has set up in the basement of the bookstore that Artists Space runs in Tribeca. "Would you be interested," he asked in an email, "or be able given your position, to plunge The New York Observer into bombshell journalism?"
At the studio, Mr. Fend, who is 62 and slim, stood among orderly stacks of papers, binders and newspapers, dressed like a rumpled college professor—gray sweater over a collared shirt, dark corduroy pants, a pair of black Adidas Sambas.
Before getting started, he wanted to clear something up. "I am not an artist," he said. "I'm an architect—an important difference." He is concerned with architecture, he said, as defined by the 15th-century Italian architect Leon Battista Alberti—ensuring clean air, clean water, defense and space for people to circulate.
"If you had a tabula rasa," he said, "and you had this guy, Peter Fend, and he's in the United States, and you say, 'What is he going to do, to his best ability?' Or, 'What is the best way to use him?' I would be secretary of state. That is to say, I could make U.S. foreign policy work." This was the day before John Kerry was sworn in as the 68th secretary of state of the U.S. "An impending disaster," is how Mr. Fend characterized the appointment.
"I would give an Earth-art plan of action to Libya, Egypt, Jordan, Tunisia, Algeria," he said, and dug into a bag, pulled out a book, flipped it open to a map of North Africa, and began explaining how he would dig a long channel—inspired by a work by the late Earth artist Dennis Oppenheim—to flow the Mediterranean Sea into the barren Qattara Depression in Egypt and then back out into the sea. This would, he said, provide fresh salt water and restore an ecosystem, creating a habitat for birds. He estimates the program would cost around $2 billion or $3 billion to complete. "Not a lot of money, really," he said, comparing it with the $500 million that is being spent supporting the Malian army.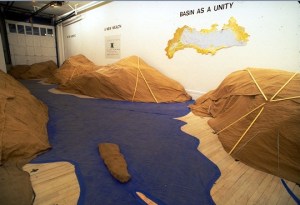 "Nobody was more devoted, selflessly, to humanity, at least in the context of saving the planet," said art collector Howard Morse, recalling coming across Mr. Fend's work for the first time in the late 1980s at Colin de Land's American Fine Arts gallery.
Mr. Fend had entered the New York art world in the previous decade, after a stint at the World Bank in Washington, D.C. By 1979, he had fallen in with a scrappy group of young artists in New York who joined together as the Offices of Fend, Fitzgibbon, Holzer, Nadin, Prince & Winters, offering "practical esthetic services adaptable to client situation"—art with efficacy. (One project involved renaming 112 Greene Street as White Columns.) The Offices ended, and he and other artists incorporated as the Ocean Earth Construction and Development Corporation, which allowed them to operate like any other nongovernmental entity. He helped launch Space Force, which purchased satellite images that the artists analyzed and then sold to various media outlets who were reporting on events like the Falklands and Iran-Iraq Wars. Their accounts sometimes contradicted or expanded upon those in the mainstream media.
"As artists, we are in the business of being suspicious," Mr. Fend has said. They uncovered evidence that Iraq had built artificial water barriers in order to extend its territory, and published their findings in New Scientist. Ultimately, he claimed, intelligence agencies rendered the work impossible.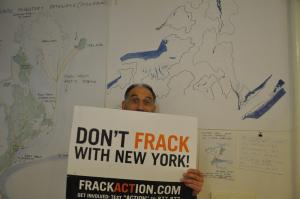 None of this made for a stable living. Mr. Fend worked for a while at the Fulton Fish Market, where one day he came across stolen artworks. He plotted to fence them for the mafiosi back to the artists (Mark di Suvero and others) in return for a small fee, he told New York magazine in 1980. He got some of the works returned, but ended up with nothing.
He reported the whole story to the magazine: "I am now disliked by the artists for what I did, and I'm considered an idiot by the Fulton Street gang." (In a subsequent letter he explained that he had not planned to keep his cut.) He went public, he told us, because the police had been attempting to get him to report on the market's organized crime and then enter the witness protection program.
"He was essentially the Johnny Appleseed on the face of the earth," Mr. Morse said. "He was somewhat homeless, if you will. He had long stints in Europe. In New York, he would be living in the gallery."
Mr. Morse's wife Barbara recalled him traveling with one suitcase that contained all of his paper. "He stayed with us a couple of times," she said. "He would unload these stacks of papers, each for another project." They included things redrawing national boundaries to focus on water resources.
"As time goes on, this looks like a very astute way of thinking," said Mr. Graham, who last year organized a show at his gallery, Essex Street, called "Über die Grenze"—"out of bounds," as a German ministry once termed Mr. Fend's work. It was made up of science-fair-style posters that documented works that he had never been able to complete.