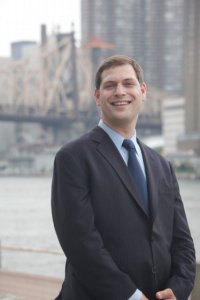 Upper East Side Assemblyman Micah Kellner's campaign for the City Council got a nice boost this morning with the official endorsements of the neighborhood's congresswoman, Carolyn Maloney, and the woman whose job he's aiming to grab, Jessica Lappin.
"I wholeheartedly endorse Micah Kellner for City Council. I have been honored to represent the 5th District for the last seven years and know he will make an outstanding Council Member for our community," Ms. Lappin said in a press release. "One example of his success was passing a landmark law to protect New Yorkers with chronic and life-threatening diseases from prescription drug price gouging at the hands of insurance companies," she continued. "His experience, creativity and accomplishments give Micah the best qualifications to be our next City Council Member. I look forward to voting for him and will be proud to call him my Council Member."
Ms. Lappin is vacating her district to run for Manhattan Borough President, leaving a field of aspiring council members to compete for the position.
Attorney Ben Kallos has been the most aggressive fundraiser in the race and would appear likely to be Mr. Kellner's main rival, with dancing professor Hill Krishnan and gaffe-prone community board member Ed Hartzog rounding out the pack. Mr. Kallos was previously endorsed by former Public Advocate Mark Green.