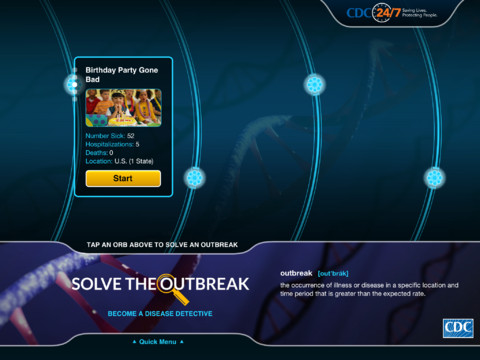 The Centers for Disease Control (A-town, represent) has just released a new iPad app, meant to educate the public on how its "disease detectives," a.k.a. epidemiologists, a.k.a Dustin Hoffman in Outbreak, fight epidemics. It is called "Solve the Outbreak," and the announcement makes it sound like it is basically "Contagion: The Game!" The description: 
You'll play the role of an Epidemic Intelligence Service agent. Find clues about outbreaks and make tough decisions about what to do next: Do you quarantine the village? Talk to people who are sick? Ask for more lab results?
One of the three cases that the game launches with: "Birthday Party Gone Bad." It's like stumbling across a lost edition of the Sim City franchise, except (this being 2013) there are of course badges out the wazoo:
With fictional outbreaks based on real-life cases, you'll have to puzzle through the evidence to earn points for each clue. The better your answers, the higher your score – and the more quickly you'll save lives. You'll start out as a Trainee and will earn badges by solving cases, with the goal of earning the top rank: Disease Detective.
Please note: Conferral of the rank of "disease detective" does not entitle you to practice medicine in any state of the union, or anywhere else in the world, even in the event of a zombie apocalypse.
(h/t Boing Boing)