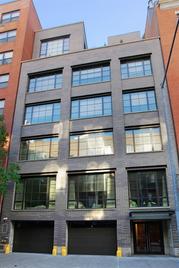 When The Epoch Times reviewed celebrity chef Michael Symon's new Greek restaurant in the Flatiron District, Parea, in 2006, it wrote that it "might improve after Mr. Symon gets more experience in the New York restaurant world." Parea shut down the next year and Mr. Symon has refocused his efforts on the Midwest and his hometown of Columbus, Ohio (he once described his cuisine as "meat-centric"), but he's still taking The Epoch Times' advice to heart: he's staying in New York.
Mr. Symon and his wife Elizabeth just picked up a full-floor unit at 316 East 22nd Street, a boutique loft building built by David Howell Design. The six-unit building went up around the time the market crashed, and the Symons' sixth-floor unit (which is not actually the penthouse) is the first to be resold. The sellers, Neil Barve and Davray Aditi, picked up the pad in 2010 for around $2.24 million, and resold it to the Symons for $2.75 million—a tidy profit for not even three years of ownership.
The Symons could be moving from their penthouse at 210 Lafayette Street, a building styled as One Kenmare Square (nevermind that there is no "Kenmare Square" in Manhattan), designed by Richard Gluckman and developed by hotelier André Balazs. They picked up their SoHo digs for just over $3 million last year, and are asking $3.5 million for it. So far, they've gotten two offers above that price. Not bad for a condo they've only owned for a year!
Though their latest buy is cheaper than their SoHo penthouse and isn't quite in prime Gramercy territory, it isn't much of a downgrade. The 40-foot-wide condo features 1,777 square feet of space, and also boasts a private parking garage. And while the building doesn't have the same pedigree as their SoHo pad, it must be well-designed, because architect David Howell told The Observer that he in fact lives in the building. So if there are any leaks, the Symons will know who to call!