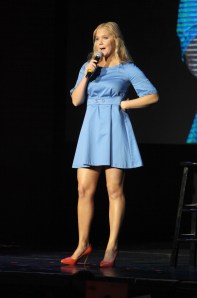 Outside of Joe's Pub last Wednesday night, a line stood dozens deep as savvy comedy fans and plaid-shirted beardos waited to see if they'd make the cut. Inside, black-clad waitresses tended to the booths and tables. Stagehands hustled to prepare the room. And somewhere in the wings, Amy Schumer waited to take the stage, possibly sweating.
The Transom found a vacant stool by the bar, alongside indie filmmaker and Brooklyn resident Jim Strouse, huddled around a pint of Smuttynose and trying his best to avoid confrontation with the theater techs and Comedy Central cretins that barked orders and directed traffic every which way. Why was everyone so angry, we wondered. Mr. Strouse had no answers.
"I don't know anything about this," he said.
What we did know: Ms. Schumer, a 31-year-old actress and comedienne, is a rising star in the world of setups and punch lines, having capitalized on her breakout performance at the Comedy Central Roast of Charlie Sheen in late 2011. Last year, she appeared on Louie, a coup for any New York comic, and she will reportedly pop up on the current season of Girls. This spring, she hopes to grow her audience even more when her new show, Inside Amy Schumer, premieres on Comedy Central. Hence the hoopla. Because on this particular night, Ms. Schumer was to film the stand-up segments that will serve as interstitials between the program's sketch scenes.
And soon enough, the woman of the hour graced the stage, dressed in a black mini-sweater
dress and matching thigh-highs—a look Howard Stern has told the comedienne he finds particularly, if curiously, sexy.
"Am I sweating? Feel like I'm sweating," Ms. Schumer said, her set underway, complaining about the thickness of her Spanx. "Can you call them Spanx if they're made of metal?"
As a performer, Ms. Schumer radiates a sort of wide-eyed joy. She doesn't shy away from sexual or scatological topics, or from the occasional self-effacing barb. Her laugh lines are all the more biting for the package from whence they come: a bubbly blonde with an effervescent smile. She's like a joke-telling Tracy Flick, without the crazy.
If Wednesday night's set was any indication, fans will be pleased to learn that Inside Amy Schumer will deliver the same mix of sexual vulgarities, comic rope-a-dopes and off-balance irreverence that Ms. Schumer has always provided, from 2007's Last Comic Standing to last year's standup special, Mostly Sex Stuff. Male orgasm faces? Check. The size of her vagina? Double check. How all women have been a little raped? And how.
Fans will also be pleased to learn that she absolutely killed, pumping the brakes only occasionally on her rapid-fire funny, and then only for a bit of crowd work. One young man with a lumberjack beard and a polka-dot hoodie was squarely in her crosshairs, but Ms. Schumer also took the time to ask another front-rower whether she thought the Holocaust happened.
"Me too," Ms. Schumer nodded. "I'm a believer."
By the end of the set, Ms. Schumer was fielding some questions herself. One audience member wondered if she is related to Senator Chuck Schumer. Her answer: "Only when I'm arrested for shoplifting." (Her father and the senator are indeed cousins.)
Another wondered, how big is too big? To which she replied, "We covered that."
And finally, a fan wanted to know if she could have a picture with the star of the show? "I'll get you on the way out," Ms. Schumer smiled, ever accommodating. "But I hope you like sweat."