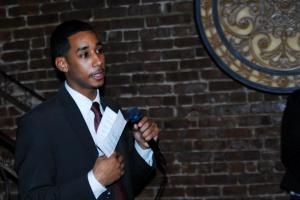 Assemblyman Vito Lopez says he's still mulling a run for the City Council, but two mayoral candidates have already endorsed his potential opponent in the race. Council Speaker Christine Quinn and Public Advocate Bill de Blasio offered their formal endorsements today for Antonio Reynoso, the chosen candidate of Brooklyn's anti-Lopez faction to replace term-limited Councilwoman Diana Reyna.
Neither endorsement is surprising. Although Mr. Lopez, the former head of Brooklyn's Democratic Party, still has a large footprint in the Bushwick-based district, he became politically radioactive following sexual harassment allegations last year. The controversy furthermore sent a shockwave through the City Council's redistricting process when the lines were allegedly redrawn for Mr. Lopez's benefit. Ms. Quinn had a particularly harsh reaction to the accusations and subsequently tabled the map, vowed to defeat Mr. Lopez and held a fundraiser for Mr. Reynoso.
"Antonio has distinguished himself as a very effective leader who knows how to get things done inside the City Council and on the streets," Ms. Quinn said in a statement announcing her endorsement. "He is dedicated to public service for all the right reasons, and will continue to fight hard for everyone in his community. I have endorsed Antonio because I believe strongly he is the best candidate in this race, and I want to help him win."
Mr. de Blasio's statement echoed the sentiment that Mr. Reynoso, Ms. Reyna's chief of staff, is an exemplary public servant.
"Antonio is the future. We need more City Council members and elected officials like him," Mr. de Blasio said. "He is a tough-minded organizer who knows how to build strong, durable coalitions and get results for the people in his community. That's public service at its best. He has stood up for the priorities of his neighbors and for what is right. I'm proud to stand up for him and endorse his campaign."
A source close to Mr. Reynoso's campaign said they are aiming to present a united Democratic front and line up labor support in order to send "a clear message to Vito" that Mr. Reynoso is "preparing to run a strong, aggressive campaign."
Regardless of whether Mr. Lopez runs, Mr. Reynoso is likely to face some competition. Tommy Torres, a teacher active in Democratic politics, told Politicker last week that his campaign is going full steam ahead. Of course, other candidates may also emerge.