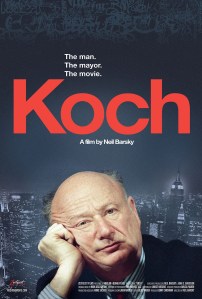 A modest yet dedicated crowd of Ed Koch fans gathered at the Lincoln Plaza Cinemas Friday evening for the opening night of Koch, the long-awaited documentary by director Neil Barsky about the three-term mayor.
Men in heavy overcoats and women wrapped in furs came in out of the cold and into the small underground theater, chatting about the eeriness of Mr. Koch's death coinciding with the release of the film. "It's spiritually bizarre," said Upper West Side resident Meredith Gardner of the timing. "I liked [Mr. Koch's] integrity, his bluntness, his energetic spirit. He was persistent, and he knew what he wanted and he went after it."
The crowd consisted primarily of older Upper West Siders who remembered the days when the city's streets were rife with crime and Mr. Koch would stand outside subway stations in the rain, asking New Yorkers how he was doing.
Longtime New Yorker Barbara Lippert said she remembered seeing Mr. Koch campaigning in the '70s. "I actually thought he was rather obnoxious," Ms. Lippert told the Transom. "I knew [that] in the black and the gay communities they didn't really like him, but I thought he was a really interesting figure."
Inside the theater, the lights dimmed and audience members settled into their seats for 95 minutes of footage of Mr. Koch's New York, peppered with the former mayor's often colorful remarks. The film's end was greeted with enthusiastic applause, as was the arrival of Mr. Barsky, who took questions from the crowd.
Mr. Barsky noted that though the film's contemporary footage was shot in 2011, many of Mr. Koch's remarks now seem shaded by his recent death.
"A lot of the scenes and some of the lines now seem very different than when we made the film," Mr. Barsky told the audience. "Almost omniscient, or morbid, maybe."
As the evening concluded, Mr. Barsky reflected on the film's reception.
"I think [audiences] understand the film," the director told the Transom. "I think I got through what I wanted, which was really to honor the history of New York and give a three-dimensional profile of Ed Koch."
When asked about Mr. Koch's passing on the eve of the film's release, Mr. Barsky cast his eyes down slightly.
"When I think about it, it was strange," he said. "And unfortunate."