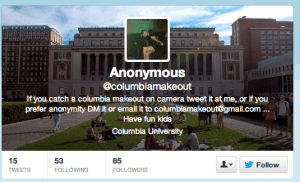 College is a time for learning about arcane poetry and gender norms, algorithms and political discourse. But it's also a time to lock lips with a sexy, sweaty stranger in an uptown bar as the DJ plays that 2 Chainz song. Spring break forever.
Twitter account @ColumbiaMakeOut has "become a minor phenomenon up in Morningside Heights," one Columbia tipster told Betabeat. The account solicits photo submissions of Columbia students making out in various bars around campus and then tweets outs the lip-locking evidence. It kicked off a few weeks ago, during "senior night."
"The prime time to catch some people in the act ;)," tweeted @ColumbiaMakeOut.
It seems light-hearted, if sophomoric, until you're the Columbia kid caught with your tongue out–with someone who may or not be your campus boo. "The account is also eerily reminiscent of Creepshots, subReddit that received national scrutiny for publishing photos of women without their consent.
Columbia students seem to have mixed reactions to the account. The school's paper, The Columbia Spectator, called it "refreshing (but also a tad bit creepy.)" The account certainly doesn't make us long for our college days.
What we really want to know is, when did Columbia get so fratty?
Update:
Apparently Ohio University also has one. One more and we have a (gross) trend!