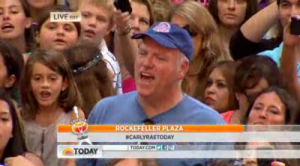 Comedy Central host Stephen Colbert was the surprise guest this morning at the House Democratic retreat and his appearance included quips about his sister's House bid in North Carolina and a "dramatic" duet of the Star Spangled Banner with Queens Congressman Joe Crowley. Sadly, Mr. Crowley's office told us they don't have video footage of the comedian and congressman performing, but Mr. Crowley did offer up a complimentary appraisal of his partner's performance.
"All I can say is Stephen Colbert can be my back-up singer anytime," he said.
His duet with Mr. Colbert isn't Mr. Crowley's first musical moment. The guitar-playing congressman once taped a singing robocall. He has also served as a bandleader at various fundraisers, and, perhaps most memorably, was filmed rocking out to a performance of Carly Rae Jepsen's tween pop hit "Call Me Maybe" at a Today Show taping last summer.