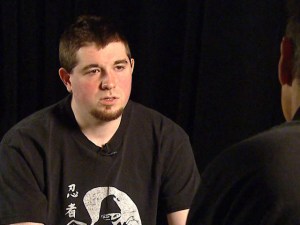 Craig Brittain, the 28-year-old operator of the revenge porn website Is Anybody Down, may have obtained some of the site's photos by catfishing women on Craigslist. According to an investigation by CBS Denver. Mr. Brittain reportedly pretended to be a woman on Craigslist's W4W section where he solicited nude photos from unsuspecting women.
CBS Denver quotes a woman who communicated with someone named "Jess Davis" on Craigslist in August 2010. Ms. Davis sent compromising photos to the woman, and then requested some back, along with the woman's name, birthday and phone number. The woman sent the information back along with a handful of photos, and never heard from Ms. Davis again. Five days later, the photos showed up on Is Anybody Down.
CBS Denver hired a computer security expert named Dr. Nicholas Weaver from the International Computer Science Institute in Berkeley who determined that the email from Jess Davis was sent from the same IP address that Mr. Brittain was using at the time. "Thus the natural conclusion is that it is almost certain that Craig Brittain composed the 'Jess Davis' emails and therefore was actively soliciting for content… by tricking victims into providing compromising photographs for his site," Dr. Weaver told CBS.
Furthermore, a reverse image source reportedly revealed that the photos used to represent "Jess Davis" were actually taken from the Is Anybody Down archives.
Revenge porn proprietors often say they are protected by section 230 of the Communications Decency Act, which shields website owners from being responsible for the content submitted to them by users. However, if Mr. Brittain was actively working to find content to put up on the site, he may no longer be protected by section 230, making it much easier to bring a federal case against him.
" If they find that site operators are contributing to the content then there's some chink in the armor, or if they make promises they'll take something off and don't, it's not covered [by section 230]," University of Maryland law professor and cyberstalking expert Danielle Citron told Betabeat. "If his conduct is contributing and creating conduct that's criminal, that could be the chink in the armor of section 230."
In recent months, victims have filed lawsuits against revenge porn proprietors with increasing frequency. In addition to the class action suit filed by several victims in Texas against Texxxan.com, a criminal case was launched recently against the site. The Orange County Sherriff's Department is working alongside the FBI after three underage women came forward saying that they had found their explicit photos on Texxxan.com.
In the midst of CBS Denver's investigation, Mr. Brittain left comments on Betabeat expressing his disstate over a photo of him that we used to illustrate a post. We reached out to Mr. Brittain via email, but he did not respond. He did, however, address the report on Twitter last night.
"CBS4 story is another Nicholas Weaver/Marco Randazza fabrication. No truth to it at all. These women are told to lie by their attorneys," Mr. Brittain tweeted.