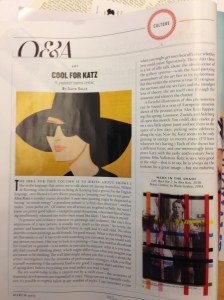 The painter David Salle, star of Janet Malcolm's famous New Yorker story "Forty-One False Starts" has now joined the magazine world in a more active way. He's just begun a monthly column about art for Town and Country, the first of which is appears in the March issue on stands now.
"David is a lucky guy because he has splendid gifts, both visually and verbally," said Town and Country's editor Jay Fielden.
The goal of the column, he said, is to have Mr. Salle write about art "as visual people talk about it." "The conceit of the column is he'll write about art with the tone, with the language that artists themselves use to talk about art," Mr. Fielden said. "Even though there will be abundant insight and fascinating detail and all the other things you expect from a great column, it's not going to be academic."
The debut column is around 1,000 words long and touches on this, how artist's talk about art. It includes praise for recent or upcoming shows by Alex Katz, Wade Guyton and Rosmarie Trockel. Mr. Fielden said the column for the April issue, which just closed, will touch on a recently opened show on Piero della Francesca at the Frick Collection.
Mr. Fielden credited Culture Editor Gemma Sieff, formerly of Harper's, with the idea of bringing Mr. Salle on as a columnist. It should be a monthly column, he said, though he recognizes that Mr. Salle is a busy guy.
"We're 11 issues a year," Mr. Fielden said. "My ambition is to have him in all 11. If he's in nine? It's fine."