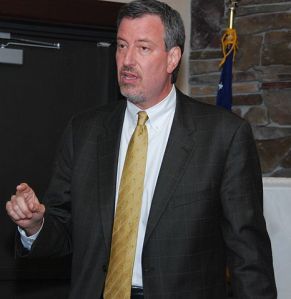 New York City public advocate and Democratic mayoral candidate Bill De Blasio added his voice to a growing chorus of commentators (including The Observer) who have noted similarities between Council Speaker Christine Quinn's affordable housing platform, announced in her State of the City address earlier this week, and a plan proposed by the real estate industry in 2011. The proposal would cap property taxes for whole buildings if they agreed to set aside a certain percentage of their units to let at below-market rate rents.
"Chris Quinn's so-called affordable housing plan," Mr. De Blasio said at a press conference earlier today, "is obviously a giveaway, a very big giveaway, to powerful real estate interests. It's such a big giveaway that even Michael Bloomberg thought that it was unfair," he said, likely referring to a story in The New York Times today, which claimed that advisors within the Bloomberg administration were surprised at how closely Ms. Quinn's plan hewed to that of the Real Estate Board of New York's plan (a plan strongly supported by the Related Companies' Stephen Ross):
Aides to Mr. Bloomberg said they were surprised, even startled, to see the tax cap proposal prominently featured in Ms. Quinn's speech.

When the real estate industry sought a similar set of tax incentives through a bill in the New York State Legislature in 2011, Mr. Bloomberg's office singled out the tax cap for criticism. In a memo, a top aide said the plan was "not, fundamentally, an affordable housing program," but "a large tax break dressed up as a housing policy."
"I've had my ups and downs and downs with the mayor," Mr. De Blasio told reporters, "but when the mayor says it's fiscally irresponsible to give so much money to the wealthy, you know you've got a problem."
Mr. De Blasio also singled out Related's living wage exemption on the Far West Side, which was negotiated by Ms. Quinn. "And in that case we weren't even talking about affordable housing," he said (although Hudson Yards does have a below-market rate housing component). "We were talking about people trying to make at least $10 an hour so that they could feed their families."
When a reporter mentioned a "related question," Mr. De Blasio joked, "Related—get it?!"
Asked for his alternative to Ms. Quinn's plan, he said he would like to "use the city's own resources from that same tax base"—that is, the one that the speaker's tax breaks would eat into—"to create affordable housing." This bears a resemblance to Ms. Quinn's first idea in her State of the City, though he did not pinpoint a funding source (Ms. Quinn wanted to finance her 40,000 new affordable units through a combination of government efficiencies and new borrowing).
Mr. De Blasio also spoke of wanting to "hold developers' feet to the fire, bargain harder, demand more, because they're getting extraordinary value" out of the rezonings during the "Bloomberg and Quinn years," as he called them.
Below is a video of Mr. De Blasio's remarks on Ms. Quinn's housing plan.
[youtube http://www.youtube.com/watch?v=cDYy_40uyr8]